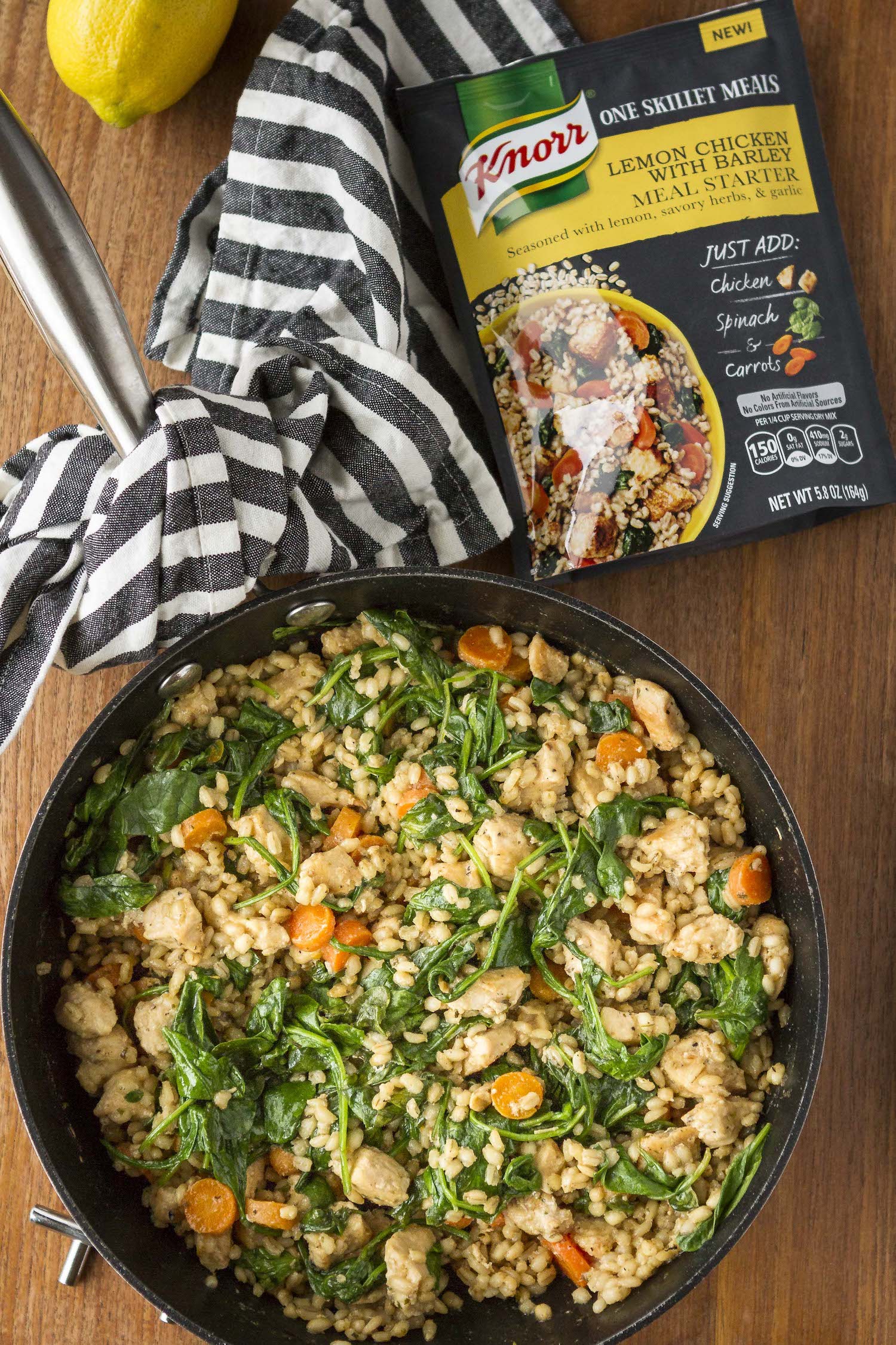 Disclosure: Sponsored by Mirum, all opinions are my own. Thank you for supporting the brands that support this site!
"WHY do they want dinner every. single. night?" I see this meme on Facebook and elsewhere often, and it never fails to make me laugh — because I can totally relate. With sports and other obligations, there are many nights when getting dinner on the table is just an all-out struggle. I'm not above declaring a make-your-own-dinner night when I know there are plenty of leftovers in the fridge, and I know I can count on my oldest to whip up a batch of my kitchen sink pasta in a real pinch.
But I also like to keep some other super easy meal options on hand for nights when I need to put dinner on the table in a hurry. Like these new Knorr® One Skillet Meals! I'm LOVING the Lemon Chicken with Barley meal starter right now. Not only is it super simple to throw together (ready in about 30 minutes!!!), but my kids actually enjoy it.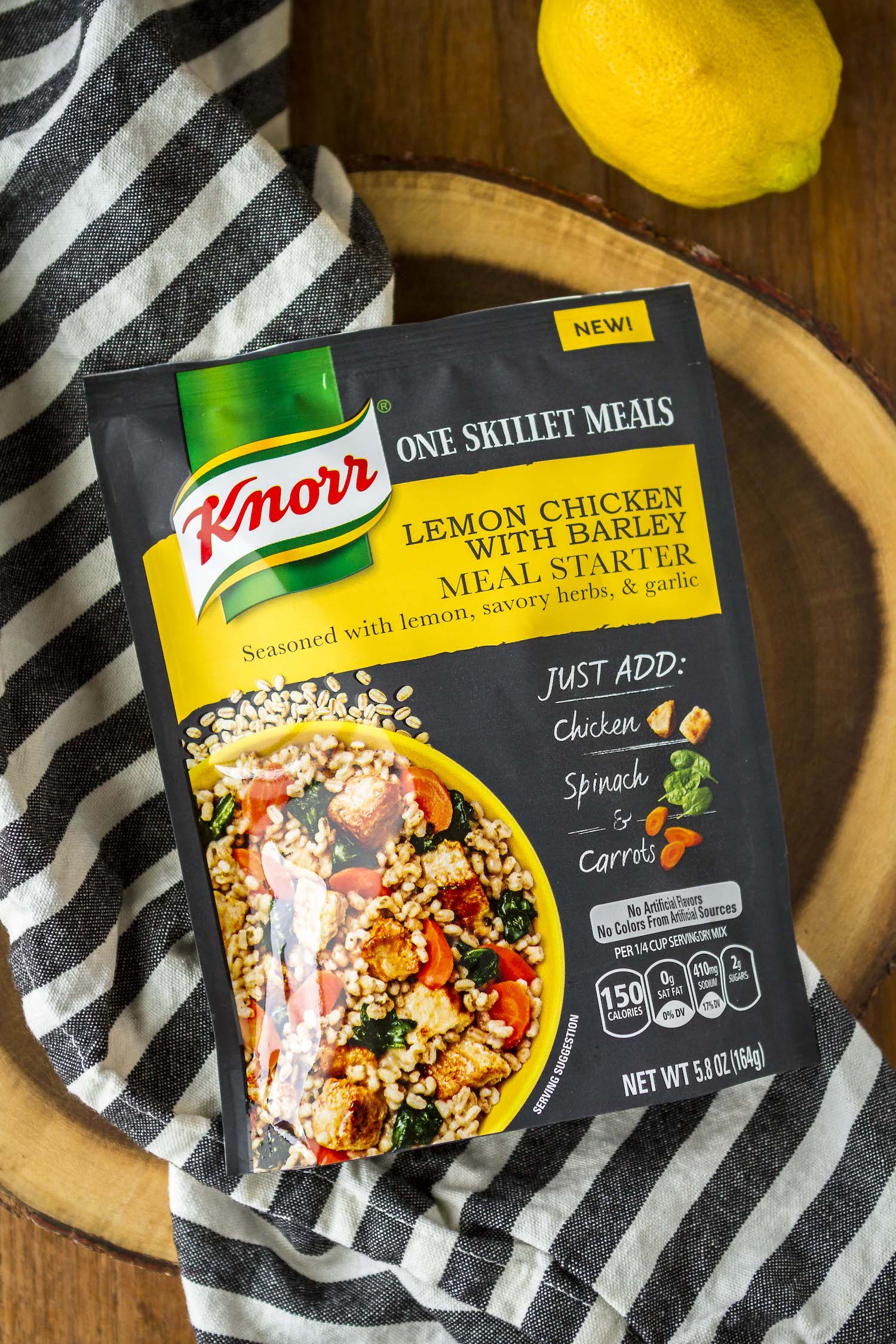 I swear it seems like Knorr® heard every last thought I've ever had about getting an easy and healthy meal on the table fast and then made a product that solved all of my complaints. In the Knorr® pouch you'll find responsibly grown organic barley and a variety of herbs and spices. What you WON'T find are artificial colors and flavors, which makes me feel good about serving this to my family.
To the starter, you just need to add chicken, fresh spinach, and fresh carrots — all staple ingredients that we pretty much have on hand at any given time. So I know that this is truly a meal I can put together on the spur of the moment!
Making this delicious Lemon Chicken with Barley recipe is SO stinkin' easy… Just brown the chicken, then add the entire Knorr® One Skillet Meals pouch, along with water and sliced carrots. Simmer covered for about 20 minutes or so, then add the fresh baby spinach on top, replace the lid, and let it wilt for about 2 minutes. Stir it all together and serve!
My mouth was watering the whole time I was cooking it. It seriously smells SO good — and if possible, it tastes even better. If I hadn't made it myself, I would have never guessed it started with a prepackaged pouch.
Throw together a simple side salad while the barley is cooking, and you've got dinner on the table in no time at all. But don't take my word for it — I can't wait for you guys to try this recipe and tell me what YOU think.
Lemon Chicken with Barley
servings: 4 prep time: 10 mins cook time: 28 mins
Ingredients:
1 package Knorr® One Skillet Meals – Lemon Chicken with Barley
2 tablespoons olive oil
1 tablespoon flour
1-lb. boneless, skinless chicken breasts, cut into bite-sized pieces
1 cup sliced carrots
2 cups water
1 (6-oz.) package baby spinach leaves
Directions:
Heat the olive oil in a large nonstick skillet over medium-high heat. Toss the chicken with flour (and salt & pepper if desired), and then cook 4 minutes until browned. The chicken will continue to thoroughly cook in Step 2 with the barley.
Add water, carrots and contents of Knorr® One Skillet Meals to the skillet and bring to a boil. Cover, turn down the heat to medium-low, and simmer for 23 minutes or until the barley is tender.
Place the baby spinach on top of the barley mixture and cover. Remove from the heat and stand covered 2 minutes or until the spinach is wilted. Stir until the spinach is completely wilted and well blended.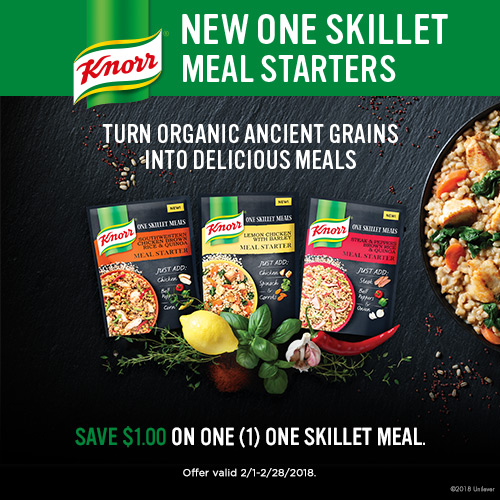 Save on Knorr® One Skillet Meal Starters at Kroger
Ready to give them a shot? Find Knorr® One Skillet Meals at Kroger with the other Knorr® Sides products! Yeah, I thought they might be with the sauces and spices, but nope, they're with the sides. They come in a variety of flavors, each with a suggested recipe printed on the back of the package:
Lemon Chicken with Barley
Steak and Peppers Brown Rice and Quinoa
Southwestern Chicken Brown Rice and Quinoa
Shrimp Scampi Whole Wheat Couscous
Moroccan Style Chicken with Barley
AND it just so happens that Kroger has an awesome deal on them with the Mega Sale right now! As if you needed another excuse to try them…
Knorr® One Skillet Meal Starters, $2.99
Mega Sale Mix & Match Buy 6 Save $3 Offer
$1/1 Knorr® One Skillet Meal Starters digital coupon
$1.49 after sale and coupon!
Which Knorr® One Skillet Meal Starter do you want to try first? Stock up now!