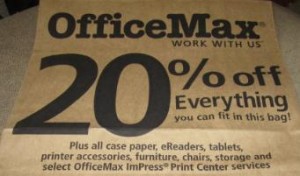 Among all the other great coupons in Sunday's paper was a brown paper bag from Office Max for 20% off everything you can fit into the bag.  Tablets are included this time in the sale.  Didn't get the bag in your paper?  Print a coupon to take with you to Office Max this week.  Here's how to get this great deal:
Kindle Fire, $199
20% brown bag discount coupon
$159.20 after discount!
(Thanks, Look Before Spending!)