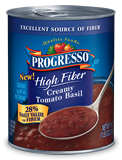 Woohoo, I see more FREE Progresso Soup in the future with this $1.10/1 Progresso Soup printable (IE) or printable (FF)!
I've seen several sales lately where Progresso Soup is priced at just $1. Print this now and we definitely should find an opportunity to use it before it expires since the ones I printed show an expiration date of 1/6/10.
Thanks, Wicked Cool Deals!