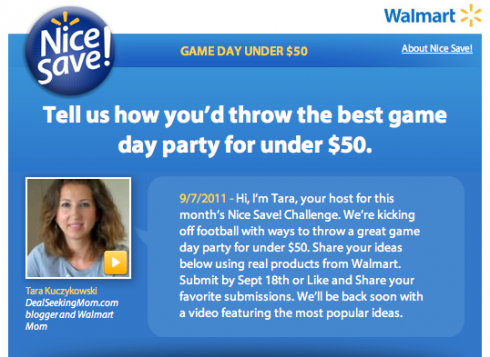 I have the pleasure of being the first ever host of Walmart's new NiceSave! Challenge on Facebook! This month's challenge is all about sharing solutions on how to throw the best game day party for under $50.
I know I have lots of super creative readers, so I'd love for you to head over and share your suggestions on how to feed a hungry crowd and keep them entertained on a budget. I'll be choosing my favorites to feature in a wrap-up video when the challenge is over.
Check out my introductory video for the program here:
Even if you don't want to make a suggestion, help us choose the best solutions by liking, sharing and commenting on your favorite solutions.
The NiceSave! application will be an ongoing addition to Walmart's fan page, so be sure to check back for new challenges. The current game day challenge will be accepting solutions through Sunday, September 18th, so be sure to submit your entries soon.
Disclosure: I am a participant in the Walmart Moms program. Walmart has provided me with compensation for the time and effort spent creating this post. However, my participation in this program is voluntary and my opinions are my own — always have been, always will be.