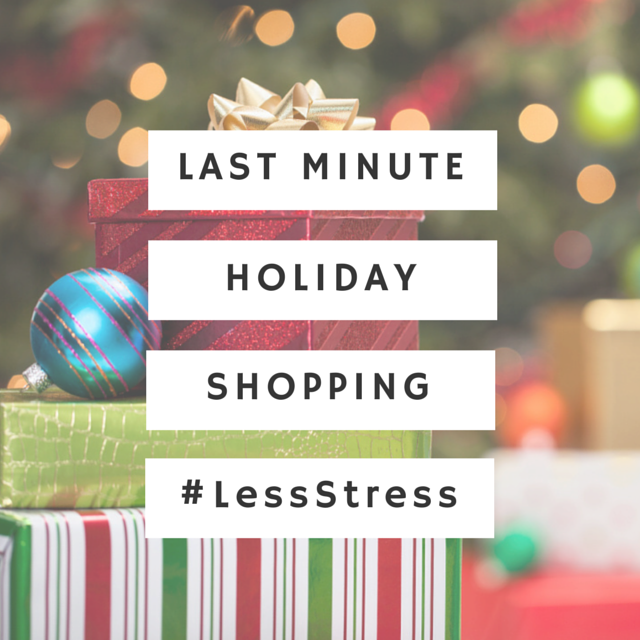 Whether you need to pick up just a few more gifts or still need to shop for your entire list, there's no need to panic about it just yet. I've got a few tips and suggestions for making sure you select the perfect gift for everyone on your list with less stress this holiday season!
Shop online.
Besides offering free shipping this time of year, many stores also have the option to buy online and pick up at a local store on the same day, helping you streamline your trip. If you're traveling for the holidays, consider purchasing online and having your gifts delivered to your destination, saving room in your bags and possibly reducing baggage fees.
At Staples, shipping is always free for Staples Rewards members, or for non-rewards members it's free for purchases of $49.99 or more. But why wouldn't you want all of the benefits that come with being a Staples Rewards member? It's totally FREE to join!
Shop early or late.
Many stores introduce extended holiday hours, which are a huge help for those needing to pick up last minute gifts. Not only will you usually find short checkout lines, but shopping during these off-peak hours typically means that it's much easier to find associates that can offer one-on-one assistance in finding just the right gift for that special someone!
Consider purchasing gift cards.
I know that there are those that consider gift cards too impersonal, but everyone in my family LOVES receiving gift cards! It allows the recipient to pick up exactly what they want/need, often at deep discounts during the after-Christmas sales.
Plus, some stores will offer holiday deals on gift cards! Right now at Staples, you can receive a free $5 Staples ePromo Card with the purchase of $25 in eGift Cards. Visit https://staples.cashstar.com for details.
If you want to personalize it a little bit, add a small complementary gift to go along with it. Examples I've given to grandparents my kids in the past are lip gloss with a store gift card for my girls and rechargeable batteries with Xbox Live gift cards for my boys.
Magazine subscriptions make a great gift.
Magazine subscriptions are the gift that keeps on giving all year long! Purchase a current issue, and wrap it up with a note indicating that more are on the way. You can even tuck in a coordinating gift — like a whisk with a cooking magazine, fishing lures with a fishing magazine, or a digital stylus with a techie magazine.
DIY gifts are always welcome.
If you have a special talent, consider making your last minute gifts. For example, baked goods (other than fruitcake, lol) aren't often passed up. Or, even better, pick up all of the supplies for a craft or ingredients for the baked goods and tuck them into a gift basket, allowing your recipient to experience the fun of creating a homemade item!
Or if homemade is a bit of a stretch, consider one of the many custom personalized products that Staples has to offer. Maybe a custom phone case?
#LessStress at Staples
All season long, Staples will be helping you save more with less stress every day with:
Price Match Guarantee both in-store and online.
Risk Free Purchase with an extended holiday return policy.
New Staples Mobile App is faster with redesigned Weekly Ad page to showcase the best in-store deals and ability to view deals by category.
Daily Deals on the Staples.com online storefront.
Free Shipping from Staples.com for Staples Rewards members, plus up to 5 percent back in Staples Rewards on everything including technology.
Ship 7 Days a Week with package drop off and associate assistance.
Shop from Staples.com kiosk for items not found in store.
Do you have any other last minute gift strategies that I haven't covered? Please share in the comments!
I'm so pleased to be partnering with Staples again this holiday season as part of the Staples Holiday Council! Their ultimate goal this holiday season is to "make less stress, more savings happen." Staples will be offering great deals (including exclusive offers!) throughout the holiday season, helping you get more for less!
This post is brought to you by Staples. All opinions are 100% mine.