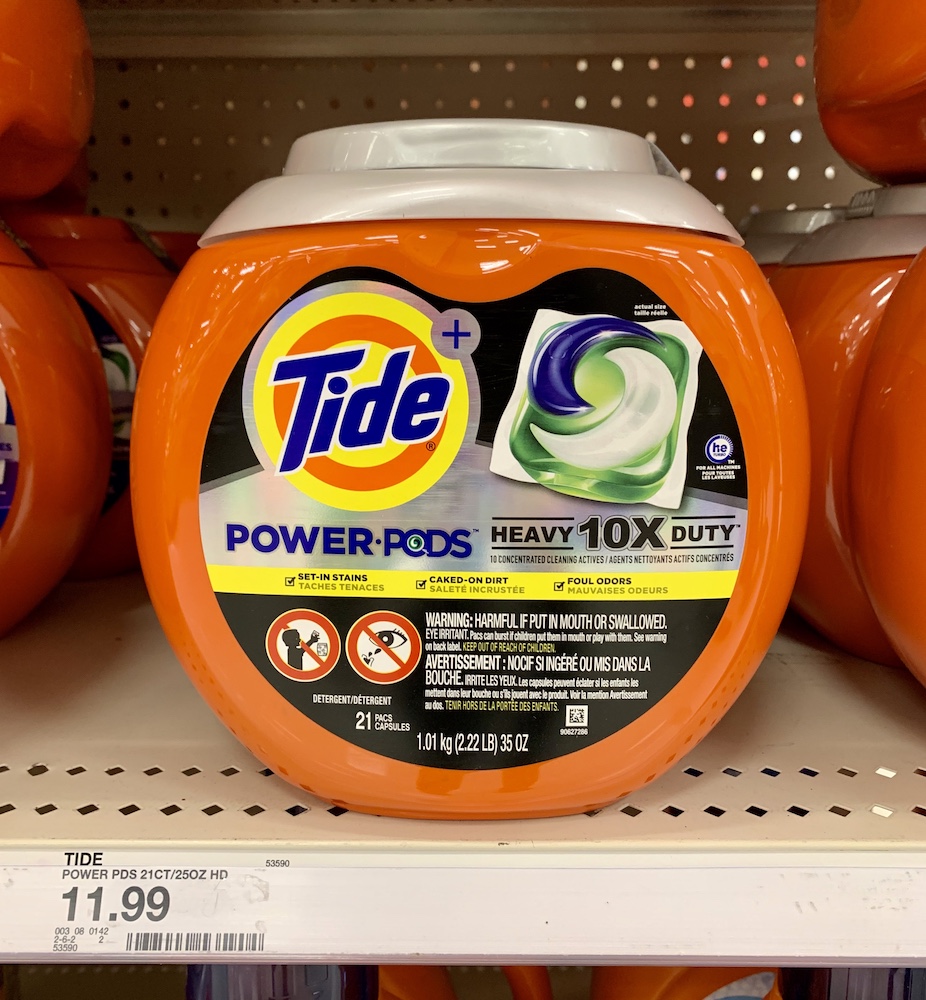 This is a sponsored conversation on behalf of Tide; all opinions and text are my own. Thank you for supporting the brands that support this site!
Have you tried new Tide Power PODS, yet? Before I tell you all about them, drop everything and print this new $3 off Tide Power PODS coupon! It's good through January 25th, and I'm pretty sure you're going to want to give them a try…
With 50% more cleaning power than Tide Original Liquid, Tide Power PODS tackle large loads so stains don't sneak through. This happens SO often around here, and I can't even tell you just how frustrating it can be!
I don't worry about my own clothes so much. At this point, I tend to wash them separately from the kids, and I know exactly what needs to be pretreated. But my kids are TERRIBLE about letting me know about stains and such. So these Tide Power PODS are ideal for their loads, because they're specially formulated with:
More cleaning ingredients vs. 2 Tide PODS
2X more freshness power vs. 2 Tide PODS
Long lasting fresh scent
They dissolve completely and work in any machine, temperature, and water condition — which is great, because our water is ridiculously hard. And with two different varieties, they can tackle anything:
Tide Power PODS Heavy Duty 10X — perfect for impossible stains, like grease, oil, red wine, blood, and smoke, as well as fighting set-in stains and caked-on dirt.
Tide Power PODS Spring Meadow — these boast 2X more freshness power vs. 2 Tide PODS and have a long lasting fresh scent.
Right now you can find these new Tide Power PODS at Target, Kroger, and CVS. Note that CVS only carries the Spring Meadow variety at this time.
Currently they're priced at $11.99 for a 21-ct. tub, making each them just $8.99 after the $3 off coupon!

Tide PODS Printable Coupons
Curious about the fine print on this Tide printable coupon? It reads $3 OFF ONE Tide PODS 32 ct or larger (includes Tide PODS 26 ct) OR Tide Power PODS 21 ct or larger (excludes Tide Liquid/Powder Laundry Detergent, Tide Simply, Tide Simply PODS, Tide PODS 9 ct and below, and trial/travel size).
There's also a $2 OFF ONE Tide PODS 31 ct or smaller (excludes Tide Liquid/Powder Laundry Detergent, Tide Power PODS, Tide Simply, Tide Simply PODS, Tide PODS 9 ct and below, Tide PODS 26 ct, and trial/travel size) printable coupon available. I definitely recommend printing this one, as well.
Based on past trends, I can tell you that these high value Tide PODS printable coupons typically only pop up about twice a year. This coupon expires on 1/25/2020, so don't wait.
Print these new Tide PODS coupons now!
P.S. I'll leave with one TIP that I'm totally embarrassed to admit I didn't know up until recently. Did you know that the Tide PODS go into the washer drum BEFORE you put any clothes in?!
For literally years I wondered why sometimes I'd find residue from them after washing a load… Well, you guessed it — I was tossing them in after loading the washer up with clothes. PLEASE tell me I'm not the only one that's made this mistake?!