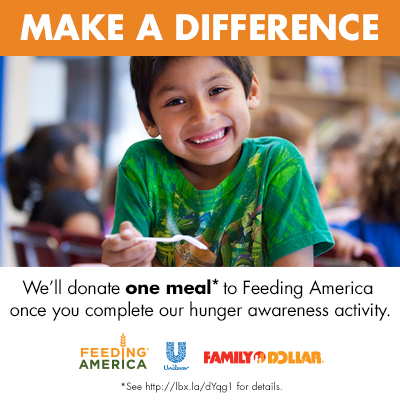 I always appreciate when an opportunity comes up to both save money and make a charitable contribution at the same time, especially when it involves hunger awareness. No family should have to go hungry in this country, yet sadly, many do every day.
This is why I'm so happy to see that Family Dollar and Feeding America have partnered to spread awareness about hunger — and YOU can help with just a few minutes of your time! By completing a simple educational awareness activity about hunger in the United States between 7/14/15 – 8/25/15, Family Dollar will donate one meal* per participant to Feeding America.
Simply head over to the Family Dollar Facebook page, and answer a series of 3 questions regarding hunger awareness in the United States. Family Dollar will then make a meal donation on your behalf, along with a 2nd meal if you share it! It literally took me 30 seconds — surely you can spare that, right?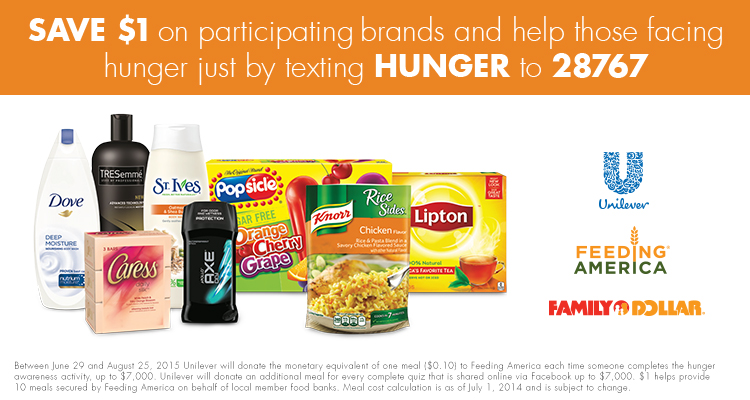 In addition, Family Dollar is offering some special mobile coupons — for each download, Family Dollar will donate an additional meal to Family Dollar! Simply text HUNGER to 28767 to download the following money-saving coupons:
$1.00 Off any Axe
$1.00 Off any Caress/li>
$1.00 Off any St. Ives/li>
$1.00 Off Lipton 100 ct/li>
$1.00 Off 3 Knorr Sides/li>
$1.00 Off ANY Klondike/Popsicle/li>
*Between July 14 and August 25, 2015 Unilever will donate the monetary equivalent of one meal ($0.10) to Feeding America® each time someone completes the hunger awareness activity, up to $7,000. $1 helps provide 10 meals secured by Feeding America on behalf of local member food banks. Meal cost calculation is as of July 1, 2014 and is subject to change.
Disclosure: Sponsored by Lunchbox, all opinions are my own.