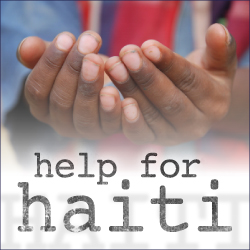 We've all seen the horrific photos and video footage of the devastation in Haiti from the disastrous earthquake this week. These people have lost more than I can even comprehend as I sit here typing this.
As I'm sure many of you have been, my family felt compelled to help in some small way, so we made a donation to the Red Cross earmarked specifically for helping these victims. However, I know that for many more of you, this is something that just may not be feasible with your current circumstances, so here are some ways you can help:
Crystal at Money Saving Mom has organized a list of bloggers that are making donations based on readers who stop by their blogs and leave a link or a comment on what they're doing to help. Plus Crystal will be personally donating as well!
Jenny at Southern Savers is compiling a list of supply drives. This is a great way to put those stockpiles to good use. Even if you can't donate cash, I'm sure many of you have a good supply of toiletries that you can donate!
There are many other sites hosting drives, and I want to give you all the opportunity to share how you're helping these victims. Please feel free to share your link in the Mr. Linky below: