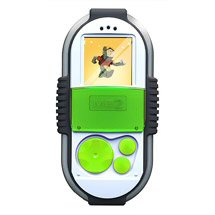 Have you been looking for an inexpensive alternative to a Nintendo DS or Nintendo Wii for Christmas? Here's a cool toy you might want to consider. Read a little bit about it, and then enter to win one of two of these toys for your child!
The Itoys Me2 Online/Exercise Gaming System is a handheld electronic gaming system that retails for just $28.88 at Walmart! Yes, you'll sacrifice some of the cool graphics, but this little gadget is a lot of fun and just might offer some surprising health benefits for your little one at the same time.
The ME2 acts as a kid's pedometer and healthy lifestyle tracker, all while engaging your child with the functionality of a video game system. It's about the size of a small cell phone, and your child earns points for wearing it while taking part in physical activity. He or she then uses the points to play the video games. If your child runs out of points, no more video games until he or she exercises to earn additional points!
Kids can create their own avatar which they can customize hundreds of ways and can also purchase items for them using their points online. They can use their character in online play and download new content to their ME2s from the ME2Universe website.
Features:
Create your own avatar from over 1 million combinations
Download new games onto your handheld to play on the go
Full-color LCD screen
Upload and download capabilities
Clock and calendar
The more points you have, the more you can play the game
Totally customizable
Includes USB cord and belt clip
Requires three "AAA" batteries (not included)
My kids had a blast with this toy! My five-year-old son was running around in circles outside just trying to earn enough points to play. I think this is a valid way to teach kids how to balance time spent playing video games with physical activity, a lesson that will hopefully stick with them as they outgrow the ME2.
So would you like to win one of these cool toys? I've got not one but two ME2s that I need to find a home for!
Every reader has three methods available to enter this contest. Choose one each of any combination of method one, two, or three, for up to a total of 3 entries!!!
1. Leave a comment sharing your thoughts on the ME2! Make sure that I have some way to get in touch with you if you are the winner. (Either leave your email address in your comment or make sure I can access it from your profile.) Don't worry, I won't harvest your email addresses or use them for any purpose other than notifying you if you win.
2. Subscribe to my feed via RSS or email and leave a separate comment letting me know you have done so. If you're already a subscriber, simply leave a separate comment letting me know you're already subscribed. Lovin' my subscribers! You guys make this all possible.
3. Spread the word about this contest in some manner and come back and leave a link in a separate comment. If you have a blog, you can blog about it. But if you don't have a blog, you're not at a disadvantage. You could review and Stumble it. You could Twitter it. You could post about it in a forum. Use your imagination!
It is important that you leave a separate comment for each type of entry because each comment is equal to one entry. Sorry to harp on this, but it really is that important to tally and select the winner easily, so I thank you from the bottom of my heart!
Prize:
1 of 2 IToys ME2 Online/Exercise Gaming Systems as detailed above
This giveaway ends at 11:59 p.m. EDT on Saturday, October 25th. I'll use Random.org to generate a number that corresponds with the winning comment number and post the winner on Sunday, October 26th. Good luck!
While you're in a contest entering mood, don't forget to check out the Giveaway Gathering for a variety of contests being hosted on Deal Seeking Mom readers' blogs!!!