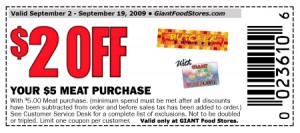 I'm so jealous of those of you that get to take advantage of this fantastic meat coupon!
Readers that have a Giant Food Stores can save $2 on any $5 meat purchase through September 19th. There's also a coupon for $1 off Giant brand tortilla chips.
Thanks, Moms Need to Know!