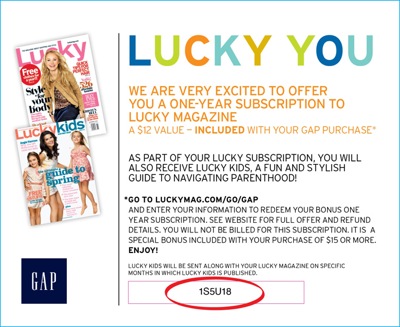 Make a $15 purchase at Gap and receive a redemption card for a FREE Lucky + Lucky Kids magazine subscription. Or you can request a $12 refund instead of the subscription!
To claim your subscription, visit LuckyMag.com/go/Gap and enter your mailing address plus your unique offer code.
To request your refund, fill out the same form, but instead of submitting it, print and mail it with proof of purchase to Conde Nast Special Programs, GAP, PO Box 37722, Boone IA 50037-0722. Must be postmarked within 30 days of purchase.
Valid through 6/10 or while supplies last. In-store only. One redemption per household. U.S. subscribers only.
(Thanks, Fun Finds for Families!)