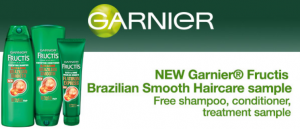 Freebie Friday is provided by Wendi, who blogs at TheFreebieBlogger, where she finds you 100% free items each and every day.
Did you know your children can earn FREE stuff just for reading books this summer? Rewards include FREE books, cash, kids meal, and movies. Click here for a list of programs.
The first 500 people to sign up here will receive a FREE sample of Azo Cranberry Gummies – they not only help you maintain a healthy urinary tract, but let you enjoy the benefits in a natural mixed berry flavor gummy.
Request FREE samples of Garnier Brazilian Smooth Shampoo, Conditioner and Treatment. These will be available while supplies last.
Advance Auto Parts has Rain-X Spot FREE Car Wash (48 oz.) for $10.49. Get it for FREE when you submit this rebate here. Product must be purchased by 5/27/15 and rebate must be submitted by 6/27/15. Click here to find a location near you.
Theaters across the country will have FREE and nearly FREE movies this summer. Depending on the theaters, deals are available to kids, families or anyone. Click here to view a list of theaters and deals they offer.
Target is giving away FREE samples of John Frieda Frize Ease Beyond Smooth hair care products. This offer will be available while supplies last.
Louisiana, Texas and Virginia have sales tax holidays coming up in the next week or two. Click here to for more information and to view the complete list of 2015 tax free holidays.
The Lakeshore Learning Center has a FREE Online Award Maker. Just choose one of 24 awards and then personalize it with recipients name, givers name, date and a message. Awards can be printed when you are finished.
Factory Tours USA is a site where you can find which companies in your state offer FREE tours of their factories. This would be a great FREE activity to do with your kids this summer.
Visit TheFreebieBlogger.com and enter to win the FREE Yumms BBQ accessory of your choice: Burger Press, BBQ Mats or BBQ Light. A winner will be chosen on 5/29/15.
See the previous freebie roundups for more free sample offers that are still available!
As always, make sure you're protecting your personal information when you're signing up for freebies.
–––––––––––––––––––––––––––––––––––––––––––––––––––––
Every Friday I'll start a new post with a Mr. Linky for you all to share your fabulous freebie finds with Deal Seeking Mom readers! If you have a freebie you'd like to list, just leave your link below.
To keep it neat, I suggest that you list your blog name and then the freebie you've found in parentheses, ex. Deal Seeking Mom (Free Toilet Paper Sample). The only requirement is that you link directly to your post on the freebie. Links directly to your homepage will be deleted.