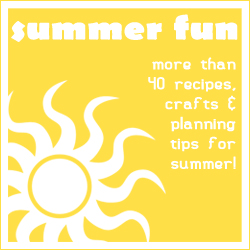 Already have a case of the summer blahs? Check out this FREE Summer Fun eBook download to get you out of a rut!

Featuring more than 20 delicious summer recipes, including my Crunchy Greek Cucumber Salad and Roasted Garlic and Parsley Fingerling Potatoes, plus tons of crafts and planning tips, you're sure to find some new ideas for keeping the kids busy.
Click here to download or print your Summer Fun eBook.
Printables
Download or print these free printables for even more summer fun:
Barbecue Planning
Travel Activities
Intentional Summer
Vacation Planning