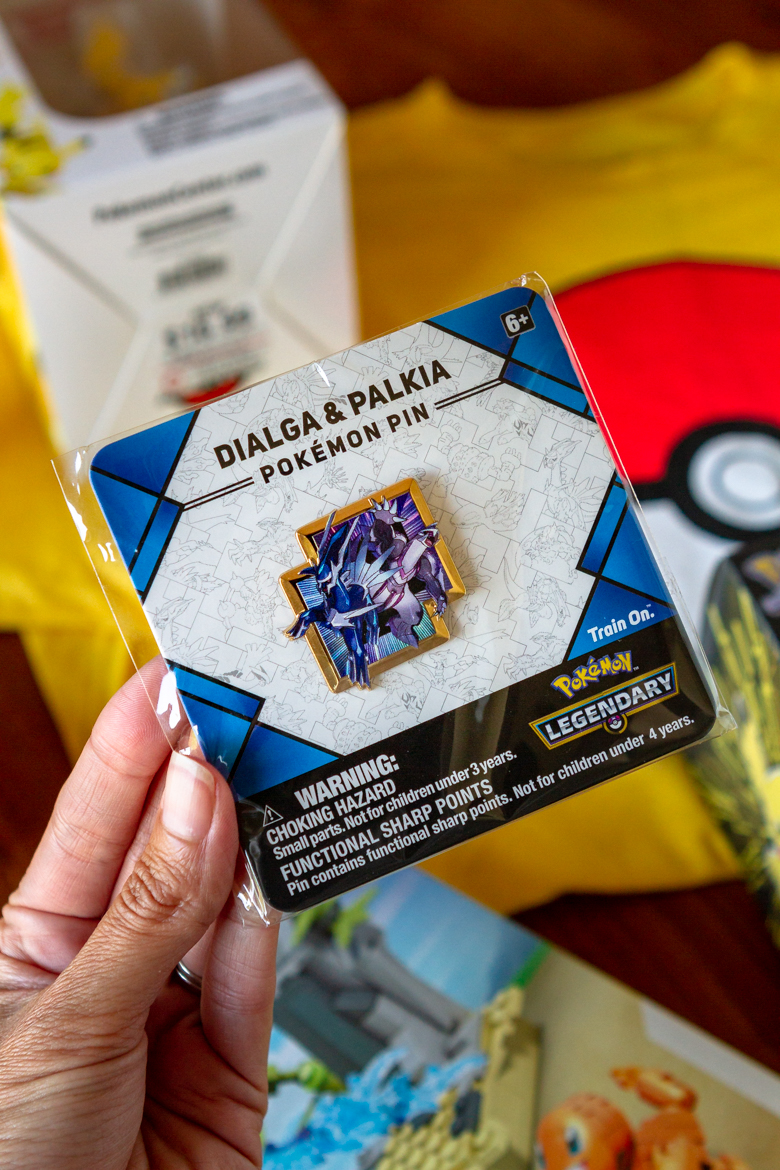 FREE Pokémon Pin for DSM Readers
Hey Pokémon fans, you're going to LOVE this offer! GameStop is hosting a super limited event -– only 22 stores are participating — this Sunday, July 15th at 6:30pm. Not only will you be able to trade Pokémon cards with your fellow trainers, but you can also battle them for a small fee to win Gamestop gift cards!
PLUS, if you are one of the first 25 people who mention Deal Seeking Mom at the door, you'll get a cool Pokémon pin TOTALLY FREE!!! And you know how I LOVE free things…
Check the list below to see if there's a GameStop store participating near you. I was pretty surprised to find my little local store on the list! But if yours isn't there, don't despair — scroll to the bottom of this post to enter to win a fabulous Pokémon prize package!
Participating GameStop Stores
DFW/Texas
LA/OC/SoCal
Midwest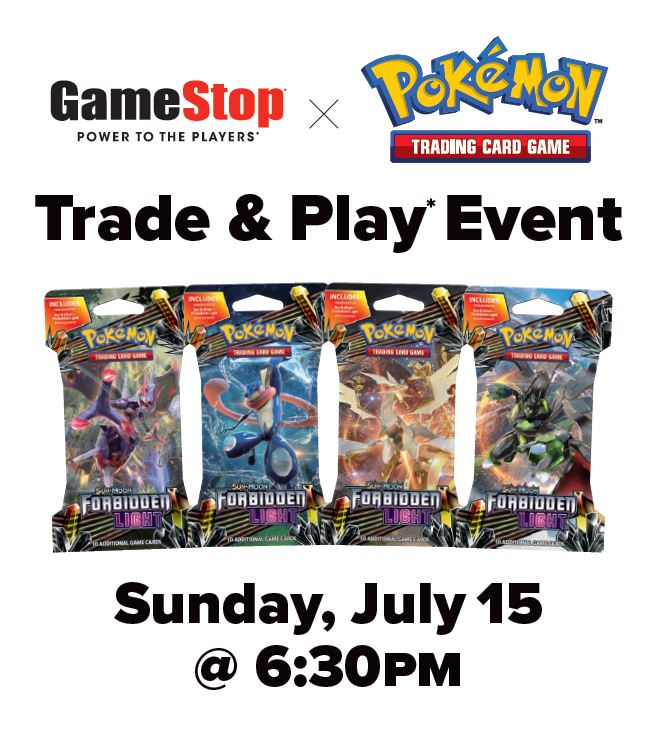 Never been to a Trade & Play event? Here's what you can expect:
When
Date: Sunday, July 15
Time: 6:30 p.m.
Trading
During the event guests can come in and trade Pokémon cards with their fellow trainers
The trade portion of the event is free for anyone to participate!
Play Event
The cost to enter the play event is $20 (plus tax) – this includes a Pokémon Build & Battle box (23-card evolution pack and 4 booster packs) and a $5 gift card
A promo will be running discounting these items to $20
Players must use the cards from the Build & Battle box to play in the tournament and the $5 gift card should be retained as a part of the prize
All gift cards from play entries go to the winner!
Play Event Bracket
Participants are put into a 16-person bracket
At the time of the play event, GameStop staff fills out the bracket in order of the sign-up sheet for everyone who has their Build & Battle box
Match Rules
Each match is single elimination
Players may only use cards received from the Build & Battle box purchased as entry, excluding energy cards
Players should bring a variety of energy types, as they will not know what kind of deck they can build ahead of time
Each store will have extra energy cards that players can borrow to help build their decks
Setup
Each player shuffles their 40-card deck and draws 7 cards (keep hidden)
Put your basic Pokémon in place face down – 1 as your active Pokémon and up to 5 on your bench
The next 6 cards in the deck should be put face down on the side as your prize cards
Battle
Draw a card
Do any of the following actions in any order:
Put Basic Pokémon cards from your hand onto your Bench (as many times as you want)
Evolve your Pokémon (as many times as you want)
Attach an Energy card from your hand to one of your Pokémon (once per turn)
Play Trainer cards (as many as you want, but only one Supporter card and one Stadium card per turn)
Use Abilities (as many as you want)
Retreat your Active Pokémon (only once per turn)
Attack, then end your turn
You WON if…
You have all the prize cards
You've knocked out all your opponents' Pokémon
Your opponent cannot draw a card at the start of his or her turn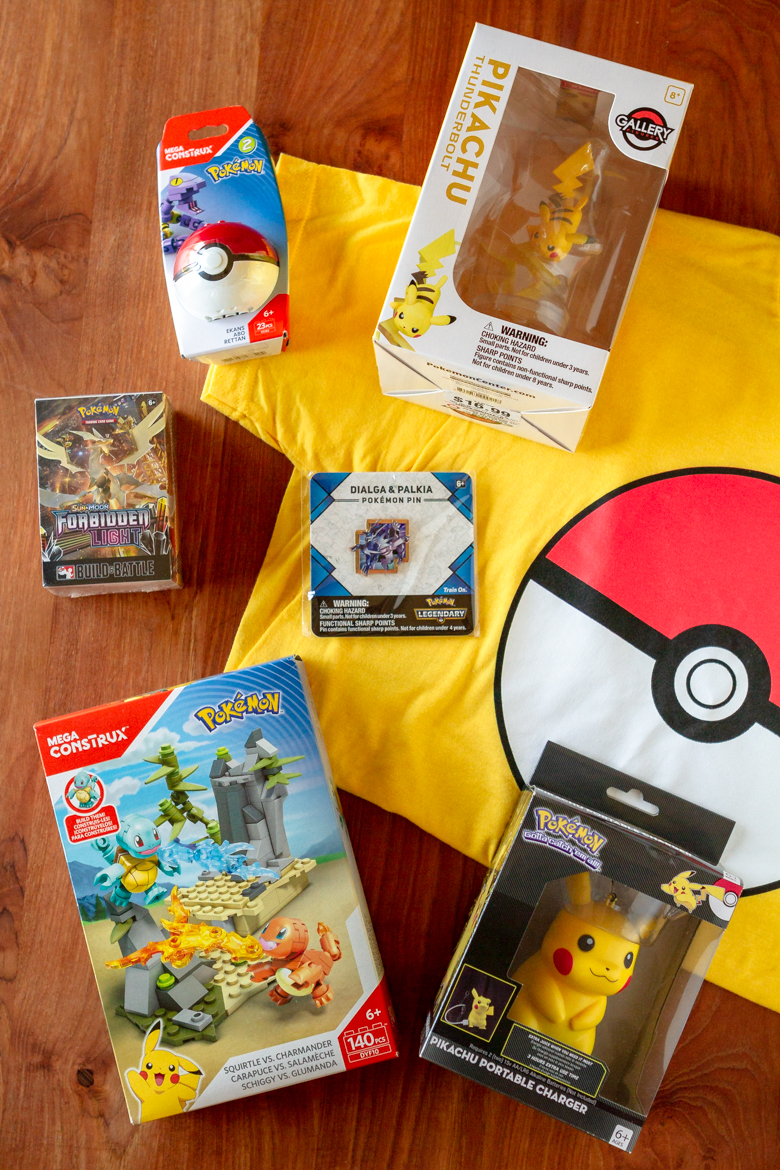 Pokémon Giveaway
One lucky Deal Seeking Mom reader (US Only) will win this fabulous Pokémon prize package, which will include:
$25 GameStop gift card
Mega Construx Kit
Gallery Figure
Trading Cards
Portable Pikachu Charger
Pokéball
T-shirt
Pins
Follow the instructions in the widget below to be entered for a chance to win…

This giveaway is sponsored by GameStop; all opinions and text are my own. Thank you for supporting the brands that support this site!