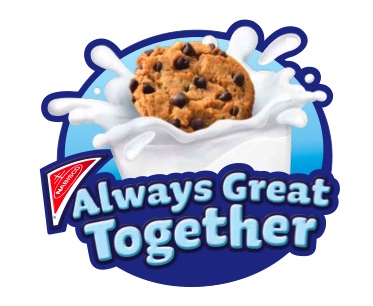 Some of my favorite family moments are baking cookies with my kids. There's just something about warm from the oven cookies with a big glass of milk that make for a special Sunday afternoon!
Unfortunately, our large family has a busy schedule, and time to bake cookies isn't always in the cards. But thanks to companies like Nabisco, we can enjoy all of the smiles without the time consuming baking process.
No, it's not quite the same, but my kids are just as thrilled to have a little one-on-one time with Mom and Dad talking and laughing over store-bought cookies and milk as if we'd done the baking ourselves!
Starting today, you can download a coupon for FREE Nabisco Cookies wyb another package of Nabisco cookies and a gallon of milk. Just become a fan of Nabisco on Facebook, and then click on the "Cookies and Milk" tab to score your FREE coupon.
There will be 500,000 coupons available this month with a limit of one per household. Be sure to check back on the first Monday of next month, because this will be an ongoing monthly offer for the rest of 2010.
This is a Sponsored Post written by me on behalf of Nabisco and One2One Network. All opinions are 100% mine.