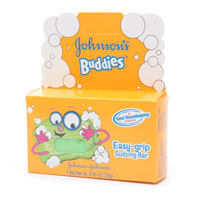 I seriously LOVE these Johnson's Buddies soaps so much that I'd buy them even if they weren't free.
So the fact that they are free after coupon at most stores is just the icing on the cake! (Ironically I do not like icing for the most part, LOL)


Pick yours up by printing these coupons:
Make sure to hit your back button on your browser to print two of each. Most stores, such as Target, Walmart, CVS, and Walgreens to name a few, carry these for around $0.99, so buy 2 or 3 depending which coupon you use and build your stockpile.

If you've never printed the old $2/2 or $3/3 coupons, you could get a total of 14 Johnson's Buddies Soaps for FREE!