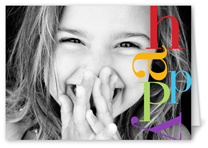 You can get a FREE Greeting Card (a 5×7 greeting card, 5×7 stationery card, or 5×5 stationery card) from Shutterfly with the coupon code CARD4U and pay only $0.99 shipping!
Log in to Shutterfly and click on "Sign in" or "Sign up" at the very top right. If sign-up for a new account you'll get 50 FREE prints too.
Click on 'My Account' then scroll down to 'Special Offers' and 'Enter special offer code'
Type CARD4U to load your FREE card into your account.
You'll get a message that reads "Congratulations! This special offer has been saved in your account : – 1 FREE 5×7 folded greeting card OR 1 FREE 5×7 flat stationery card OR 1 FREE 5×5 stationery card."
Click the orange Shutterfly logo to back to the main page, then go to "Store" in the top menu then "Cards & Stationery" and you can scroll down to the "Card types" and select the 5×7 Greeting, 5×5 Stationery, or 5×7 Stationery card to start browsing designs.
Design your card and add it to your cart.
Just pay shipping (and applicable sales tax) when you order your FREE card. When you use your coupon it does not apply towards standard shipping which should cost only $0.99 – which is a super deal for a custom card you don't have to leave home for!
Enjoy sharing your creation with a loved one!
Plus you might want to take a minute to discover what great gifts you can create  –  while saving 40% off! This is a great time to order those Mother's Day cards in advance, create your annual family photo book, or customize a blanket that features images from your most recent vacation. Use promo code PREZ40 during checkout to score your extra40% off savings – PLUS you can qualify for FREE shipping when you spend over $30 – use promo code SHIP30 during checkout.
PREZ40: Offer expires 2/17/2014 (11:59 P.M. PT). Offer is good for 40% off qualifying merchandise orders through Shutterfly.com. Taxes, shipping and handling will apply. Not valid on prepaid plans, gift certificates, videograms, cards sent using mailing services, prior purchases, orders placed for in-store pick up, purchases made on the Shutterfly iPhone, iPad and Android apps or Shutterfly Pro Galleries. Cannot be redeemed for cash or combined with other offers or credits. Not valid for resale.