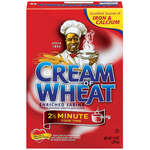 I'll admit I haven't had Cream of Wheat in years.
I remember my grandma used to make me the original flavor on her stovetop when we stayed with her. She'd fix it with a sprinkle of sugar and milk poured on top.
B&G Foods wants you to give Cream of Wheat a try again, so they're sending out free Cream of Wheat samples in your choice of flavor.
Choose from:
Original
Maple Brown Sugar
Cinnamon Swirl
Apples & Cinnamon
Strawberries & Cream
I decided to give the Maple Brown Sugar a try. What flavor did you select? Do you have fond memories of eating Cream of Wheat when you were little?