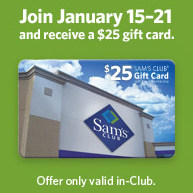 Sam's Club has another great promotion going on for new members!
Join Sam's Club as a new member Thursday, January 15th, through Wednesday, January 21st, and receive a $25 Sam's Club Gift Card.


Though Sam's Club doesn't accept coupons, there are several items that are a smart buy there for our large family. Milk is always much cheaper there, and we go through a LOT of milk. I love the big bags of frozen Tyson chicken breasts, and we always buy frozen pizzas to keep in the freezer chest for evenings when we just don't feel like cooking.
One other thing that we've started stocking up on there is rechargeable batteries! Deals on those don't come along often, and you get way more for your money, usually with a charger included.
If you have a smaller family, you could always split a membership with a close friend or family member and then divvy up the food between you to still get the low prices buying in bulk can net without wasting any food.
What are your tips for warehouse club shopping? What are some things that you find are good deals? What types of things do you prefer to purchase elsewhere?