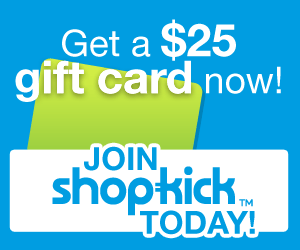 Recently, there have been some great Target store coupons on Shopkick, but if that hasn't enough to entice you to join, Shopkick is now offering a FREE $25 Restaurant.com gift card to Deal Seeking Mom readers just for trying it out.
So, what is Shopkick?
Shopkick is a FREE mobile app for iPhone or Android devices.  After you join online and install the app to your phone, you'll get rewarded with Kickbucks for simply walking into participating stores.  You can also earn Kickbucks by scanning with your phone select products in-store.
If you need more reasons to sign up, Shopkick rewards members with exclusive coupons for participating stores like Target, Macy's, Crate & Barrel, Best Buy, and 1,000 other favorite stores.  Your cashier will simply scan your mobile device to use your Shopkick coupons in store.
There's nothing better than walking into a store to buy something and your phone rewards you with a special coupon you didn't expect.
What are Kickbucks?
Kickbucks are like money that you can only spend in the Shopkick Rewards store on your mobile app.  You can use them to splurge luxury items from movie tickets for a date night or Coach handbag for yourself.  There are tons of rewards to choose from, including gift cards.
Ready to get started?
Sign up online first to get your FREE $25 Restaurant.com gift card and then download the mobile app to your phone and set up your account.  Your gift card will drop into your Shopkick account once you walk into a participating retailer.  The easiest one to try is Best Buy, since they have this feature enabled nationwide, but look on your Shopkick App for more participating retailers!
What a few extra Kickbucks right now?
If your friends are on Shopkick, you can get share codes to get an extra 50 Kickbucks.  If you don't have any friends using Shopkick, you can use my code: fox8981.  You have 24 hours after downloading to the app to enter one promo code and earn 50 extra Kickbucks!
Where do I enter my Bonus Code?
Once it's downloaded, the app launches and for 24 hours you should see a "do you have a promo code" banner on the top part of the "nearby" section. Just tap on the nearby, then the banner on the top. If you do not see this, don't worry.  Just send an email to feedback (at) shopkick (dot) com letting them know you missed it.
Don't forget to check out this week's Target Deals and the Ongoing Target Deals for more opportunities to save.
Beth from In Good Cents is the Deal Seeking Mom Store Expert for Target.  At In Good Cents, she helps families in Indiana and beyond save on every day necessities, so they can splurge on the more enjoyable things in life.