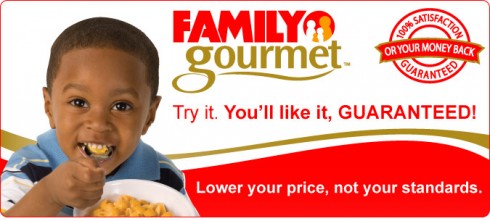 This post brought to you by Family Dollar. All opinions are 100% mine.
Family Dollar just launched a new line of store brand products called Family Gourmet! While I've not tried these products personally yet, Family Dollar is really positioning these products as an excellent way to save families money by lowering their price and not their standards.
With a 100% money back guarantee, you've really got nothing to lose by giving them a try. And chances are you'll end up gaining money in your wallet!
Take a look at these potential savings:
Family Gourmet Ground Roast Coffee 34.5 oz vs. Maxwell House Original 34.5 oz ($2.50 savings)
Family Gourmet Non Dairy Creamer 16 oz vs. Coffee Mate Creamer 16 oz ($1.25 savings)
Family Gourmet Apple Juice 64 oz vs. Motts Apple Juice 64 oz ($0.60 savings)
Family Gourmet Berry Crunch Cereal 15 oz vs. Quaker Cap'n Berry Crunch 15 oz ($0.75 savings)
Family Gourmet Buttermilk Pancake Mix 32 oz vs. Aunt Jemima Buttermilk Pancake Mix 32 oz ($0.85 savings)
Family Gourmet Pancake Syrup 24 oz vs. Aunt Jemima Country Ranch Syrup 24 oz. ($0.50 savings)
All of the Family Gourmet products are quality tested to match the national brand name products. Be sure to check out the Family Gourmet page for additional money-saving coupons!
Have you tried the Family Gourmet line yet? If so, what are your thoughts?