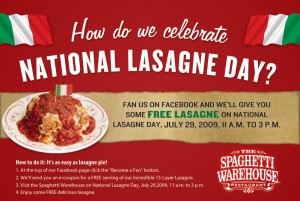 Facebook freebies are popping up all over the place these days, so if you're not registered and you love freebies . . . well, what's stopping you?
Spaghetti Warehouse – Print a coupon for a for a FREE 15-Layer Lasagne dinner at Spaghetti Warehouse. This coupon is only valid on Lasagne Day, 7/29!
HotPrints – Get a free HotPrints HotBook photo album printed with photos from your Facebook album. Hurry – this one is limited to the first 10,000 people!
(Thanks, Money Saving Mom!)
Bumble Bee Tuna – Become a fan of Bumble Bee Tuna and get access to a printable $1 off 2 coupon. The Salad Kits are available at Walmart for just $1, so that makes them only $0.50 each after coupon!
(Thanks, Common Sense With Money!)
While you're there, consider becoming a fan of Deal Seeking Mom as well!