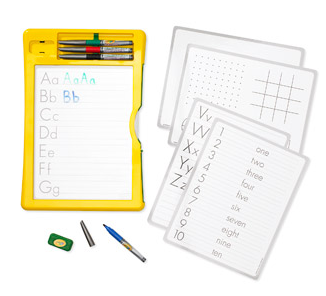 I guess you could say I'm a bit of a crayon snob — it's always been Crayola crayons or nothing. Those waxy, pallid crayons that restaurants always seem to use? Wouldn't touch them.
So I suppose it's only natural that as an adult I still gravitate toward Crayola products for my own children. And it doesn't hurt that Crayola is one of the most innovative companies out there when it comes to inspiring kids' imaginations.
Crayola recently introduced a new line of dry erase markers and dry erase crayons that has me jumping for joy! Finally an affordable alternative to the expensive office supply dry erase markers that our school district has been requiring us to purchase every year.
Our family recently had the opportunity to try out these new Crayola products, and they didn't disappoint one bit. While the kids loved creating pictures on the Dual-Sided Dry Erase Board and 3D Dry Erase Board, my personal favorite was the Dry Erase Activity Center pictured above. It's an all-in-one set that encourages kids to practice their letters and numbers, while also providing fun games to keep them occupied for hours on end. Priced at just $15, it's perfect to keep on hand for rainy days or to give as a gift!
The Crayola Dry Erase Crayons are fun beyond the dry erase board. They work on any slick surface, so they're great for drawing on windows, leaving inspiring messages on the kids' bathroom mirror, or scrawling a quick note on the inside of their lunchbox. The dry erase crayons even work on aluminum foil.
This new line of Crayola Dry Erase products can be found at a Walmart near you!
Disclosure: I am a participant in the Walmart Moms program. Walmart has provided me with compensation for the time and effort spent creating this post. However, my participation in this program is voluntary and my opinions are my own — always have been, always will be.