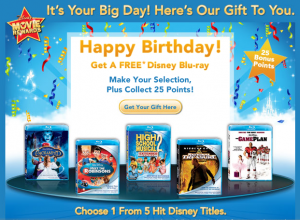 When you register for Disney Movie Rewards and enter the codes found on Disney movies, you'll receive points to get FREE Disney stuff, including movies. Additionally, they will send out a credit for a FREE Blu-ray on your birthday, where you can choose from selected Disney titles. All you have to do is pay the $2.95 shipping. Happy Birthday!
Thanks, The Thrifty Mama!
Over the summer, I'll be posting more birthday offers, so be sure to refer back to the full list for any that you may have missed.