I was absolutely thrilled to receive an email late last night letting me know that I've been selected to be featured in the Alltop Frugality category! I had good intentions of announcing this exciting news first thing this morning, but sometimes life gets in the way. Many of you are moms, so I'm sure you know how that goes.
In case you're not familiar with Alltop, they describe their purpose as follows.
"You can think of an Alltop site as a "digital magazine rack" of the Internet. To be clear, Alltop sites are starting points—they are not destinations per se. The bottom line is that we are trying to enhance your online reading by both displaying stories from the sites that you're already visiting and helping you discover sites that you didn't know existed. In other words, our goal is the "cessation of Internet stagnation" by providing "aggregation without aggravation."
This is a huge honor, and I'm very proud to be featured on the Alltop site!
And while I've got your undivided attention, I wanted to point out some cool new features on Deal Seeking Mom.
I've started adding tabs for ease of navigation. I want you to be able to find exactly what you're looking for on Deal Seeking Mom quickly and easily, so I'm slowly building the navigation up.  Check out my About/Contact and Walmart pages, as well as my special Freebies page.  The Freebies page is automatically updated with the latest and greatest freebies available from MySavings, so check it out frequently to be the first to scoop up the hottest new samples!  Tabs I'll be adding in the future include Reviews, Coupons, Drugstore Deals, Local Deals and more.
You can now print pages in a printer-friendly format. This is one of my favorite features, and thanks goes to Bargain Briana for informing me on where I could find this awesome plugin.  When you click on a post title, directly above is is a text link that says "Print This Post."  Now you can easily print out deals I post to take them along with you to the store!  And it automatically prints the direct URL of the page it's printed from at the bottom so you know where you can find it again if you should need to.
Check out related posts at the bottom of each post page. I've implemented a plugin that links related posts up with new posts to call attention to information you may have missed in the past if you're a new reader.  I hope it helps you discover something useful!
I've decided to change my tagline to "Real Deals for Real Moms." I really liked my old tagline, but after giving it a lot of thought, I decided that I wanted something that more accurately portrays my views on frugality.  I practice selective frugality meaning I'm frugal in some areas in order to be able to spend more in other areas that are important to me.  I feel like this is a realistic and attainable version of frugality that is inclusive of all moms, because who doesn't love a great bargain?
Finally, I haven't blogged much about my trip to Bentonville yet.  It was truly a jam-packed and overwhelming trip, so I was struggling about how I was going to get it all into a post.  However, it dawned on me that there's no reason to try to cram it all into a single post.
I think you'll be really interested in some of the information I learned. (Did you know Walmart offers lactation rooms for their employees? I know I didn't, but I was very thankful to be able to use them during my trip, as I'm sure many of their employees are!)  I've already mentioned some of the details from our breakfast at Kellogg's and the special Sam's Club Savings Challenge deal that we learned about at the Saturday morning meeting.  So I'll be talking about it all bit by bit over time, but for now I'll leave you with this photo of the Walmart Couponistas as we came to be called.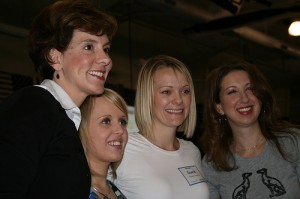 Left to right is Erin of Coupon Cravings, Denise of The "Cent"sible Sawyer, Alyssa of Keeping the Kingdom First, and of course, me. Photo credit goes to Katja Presnal of Skimbaco – The Lifestyle.