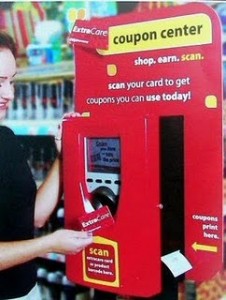 CRTs refer to Coupon Register Tape coupons that print with your receipt or in the "Magic Coupon Machines" located in select stores. They are store coupons and often produced according to your shopping habits, so you may or may not get all of the coupons that other shoppers are reporting.
Here is a list of CRT's that are being produced by the Magic Coupon machine this week:
CVS Generic CRTs:
$2/2 Bar Soap
$1/2 CVS/Pharmacy First Aid Item
$1/1 CVS/Pharmacy Hair Care Product (excludes trial size)
$2/$10 CVS Brand Cosmetic Purchase
$5/1 CVS Facial Skin Care Product
$5/1 Skin Effects Product
$2/2 Body Wash
Name Brand CRTs:
$1/1 Vaseline Intensive Care Aloe or Cocoa Butter (10 oz.)
$3/1 Burt's Bee Facial Care
$1.50/1 Sensodyne 4-6 oz Pronamel or Iso-Active
$3/1 Tylenol Arthritis 80 – 100 ct
$2/1 Glade Lasting Impressions
$1.50/1 Nailene French Manicure Artificial Nails
$3/1 Non Drowsy Claritin
FREE Dove Chocolate Bar or $2 Dove Bagged Chocolate 8.5 oz or larger
$4.50/1 Pampers Dry Max Swaddles or Cruiser Boxed Diapers
$2/1 Huggies Little Swimmers
$1/1 Style-Essentials by L'eggs
$2/1 Huggies Supremes
Other CRTs:
$3/15 Purchase
$4/$20 Purchase
$3/$15 Facial Products Products
Use some of these coupons to score great deals and FREE products. Here are my favorite deal ideas:
$2/2 Bar Soap ideas:
Irish Spring 2 pk., $1.39
Emerald Mist 3 pk., $0.99
$5/1 CVS Facial Skin Care ideas:
CVS Energizing Facial Cleansers (8 oz.), $5.49
CVS Foaming Facial Cleanser (8 oz.), $4.49
CVS Hydrating Daily Facial Cloths Refill (30 ct.), $4.79
CVS Disposable Facial Sponges (40 ct.), $3.99
CVS Daily Face Wash (6.5 oz.), $4.49
CVS Make Up Remover & Gentle Toner Facial Towelettes (20 ct.), $5.99
CVS Cleansing Skin Cream (16 oz.), $3.99
CVS Cleansing Cream Oil Free (6.5 oz.), $4.79
CVS Foaming Cleansers (6.7 oz.), $5.99
CVS Oil Free Acne Cleansers (6 oz.), $4.29
CVS Makeup Removal Pads (50 ct.), $4.49
CVS Acne Control Cleanser (5 oz.), $4.99
$1/1 CVS Hair Care (excludes trial size) CRT ideas:
CVS Styling Gel Mega Extreme Hold (3 oz.), $0.99
CVS 2 n 1 Dandruff Shampoo (3 oz.), $1.49
CVS Shampoo Kiwi (3 oz.), $0.99
Barbara from ClipperGirl's Saving Spot is the Deal Seeking Mom Store Expert for CVS. At ClipperGirl's Saving Spot, she saves her readers time and money by finding rock bottom prices on items that they use every day.