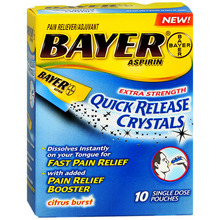 So I stopped by CVS today to pick up some of the FREE Ivory Soap 3-packs, and I was ecstatic to see that they've recently installed those "magical" CVS coupon machines. I scanned my card and a couple of so-so coupons printed, but I'm so excited that the potential is there now!
Anyhow, while I was there I noticed that they have a ton of the Bayer Quick Release Crystals 10-packs clearanced for $1.50. I'll be heading back tomorrow with my $1.50 off coupons in hand to pick some up for FREE!
Bayer Quick Release Crystals (10 pk.), $1.50
$1.50/1 Bayer Quick Release Crystals, exp. 1-31-10 (RP 10/25/09)
$1/1 Bayer Quick Release Crystals, exp. 3-31-10 (SS #2 1/3/10)
As low as FREE after coupon!
Now, I don't normally post clearance deals because they can be hit or miss, but I did find these at two different stores. I wouldn't recommend making a special trip, but keep your eyes open and take your coupons just in case.
Check out the other weekly CVS deals for even more savings.