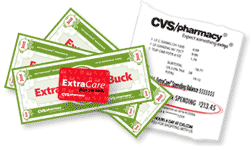 Great news — there are three different links that you can print the $5/$25 CVS coupons from, each one giving a coupon with a different bar code. Since they're different bar codes, you should be able to use all three with the same Extra Care card!
Check out the current CVS weekly deals to plan your transaction scenarios!
(Thanks, Couponing to Disney!)
P.S. I am quite sure that I posted this earlier, but it mysteriously disappeared and I didn't want anyone to miss out!