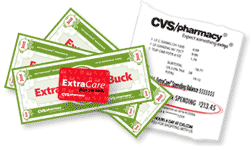 Wow, it's been a LONG time since we've had a legitimate $/$$ coupon from CVS, but this sure looks like one to me!
Print your $3/$15 CVS coupon while you can. This is a very large PDF file and will take some time to download on a slower connection, but I think it's definitely worth it! You'll find the coupon on Page 29.
Please accept my apologies. It appears that that the coupon cannot be legitimately accessed after all. I made the mistake of assuming that since you can access the complete PDF directly without a login that it was valid, but it turns out that you must pay for an online subscription to The Courier Times to access it without a direct link.
This doesn't expire until 1/9/09, so we've got two solid weeks to put this to good use!