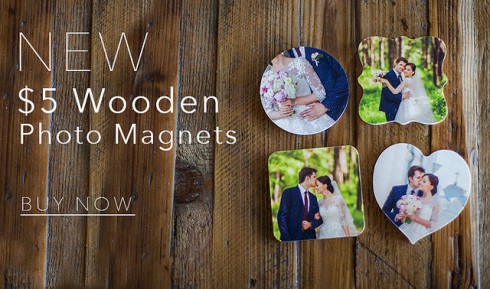 Today you can visit PhotoBarn and create your custom Wooden Photo Magnet for $5!  These wooden photo magnets are made out of 1/4″ thick hardwood plywood and are 3-1/4″ tall by 3-1/4″ wide. PhotoBarn prints directly to the coated wood surface with fade resistance UV cured ink. Each magnet has a powerful rare earth magnet embedded in the backside for a powerful hold. Surprise someone special with this perfect customized gift! (And good news, you can do this offer as much as you'd like!)
Here's how to get custom Wooden Photo Magnet(s):
Visit PhotoBarn
Click "Create" to get started and upload pictures to customize your PhotoBoard.
Proceed to checkout and use promo code LUVMAGNETS during checkout.
Enjoy that great discount and have fun as you create your own Custom PhotoBarn keepsake!
This sale ends 2/15.