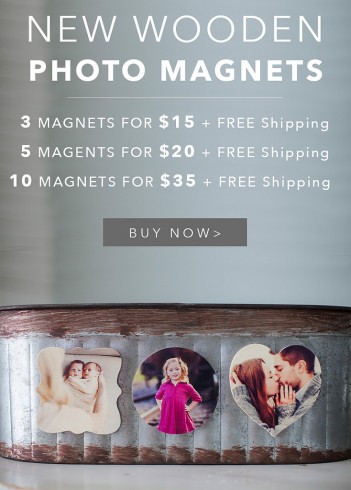 Today you can visit PhotoBarn and create your custom Wooden Photo Magnets for Valentine's Day!  These wooden photo magnets are made out of 1/4″ thick hardwood plywood and are 3-1/4″ tall by 3-1/4″ wide. PhotoBarn prints directly to the coated wood surface with fade resistance UV cured ink. Each magnet has a powerful rare earth magnet embedded in the backside for a powerful hold. Surprise someone special with this perfect customized gift!
Here's how to get custom Wooden Photo Magnet(s):
Visit PhotoBarn
Click "Create" to get started and upload pictures to customize your magnets.
You can choose 3 for $15/ 5 for $20 / or get 10 for $35!
Proceed to checkout and use promo code MAG3/MAG5/MAG10 during checkout.
Enjoy that great discount and have fun as you create your own Custom PhotoBarn keepsake!
This sale ends 2/15.