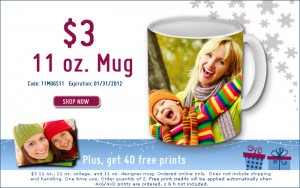 Get a customized mug (11 oz.) for $3 from York Photo!  Plus new members can get 40 FREE prints (just pay small shipping and handling fee).  There's a quantity limit of 2 photo mugs but the best part is you can get discounted shipping on the second mug!  Here's how:
Buy 2 Photo Mugs – $3 Each
Shipping on the First Mug is $5.99
Shipping on the Second Mug is $1.99
Smile, you just got 2 photo mugs (great gifts!) for $13.98 ($6.99 each!)
Thanks, Passion For Savings!