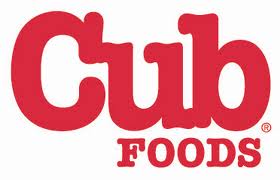 Thanks to Carrie at Pocket Your Dollars for compiling a list of the best deals to be found at Cub Foods this week.
New to couponing? Read up on what all of these abbreviations mean first in my quick reference guide.
Sunshine Cheez-it Crackers (6-7 oz.)- $1.67
$0.70/1 Sunshine Mozzarella Cheez-It Baked Snacked Crackers printable
$1/2 Kellogg's Crispix Cereals or Sunshine Cheez-It Baked Snack Crackers printable or printable
As low as $0.97 ea. after coupon!
Progresso Rich & Hearty or Traditional Soup or Light and High Fiber or Reduced Sodium- $1.25
$1/4 Progresso Soup printable
$1/4 Progresso Light Soups printable
$1/4 Progresso Soup, exp. 1/5/13 (SS 11/11/12 R)
$1/4 Progresso Soup, exp. 2/2/13 (SS 12/09/12 R)
$1.00  ea. wyb 4 after coupon!
B1G1 Fresh Express Salads- 2/$2.79 with in-ad coupon
Limit 1 FREE
Pepsi, Diet Pepsi, Mountain Dew or Sierra Mist Natural (6 pk. or 8 pk. Bottles or 12 pk. Cans)- 4/$10 with in-ad coupon
Must Buy 4; Limit 4
Chicken Leg Quarters (10 lb.)- $8.90
Check out Pocket Your Dollars for more deals!