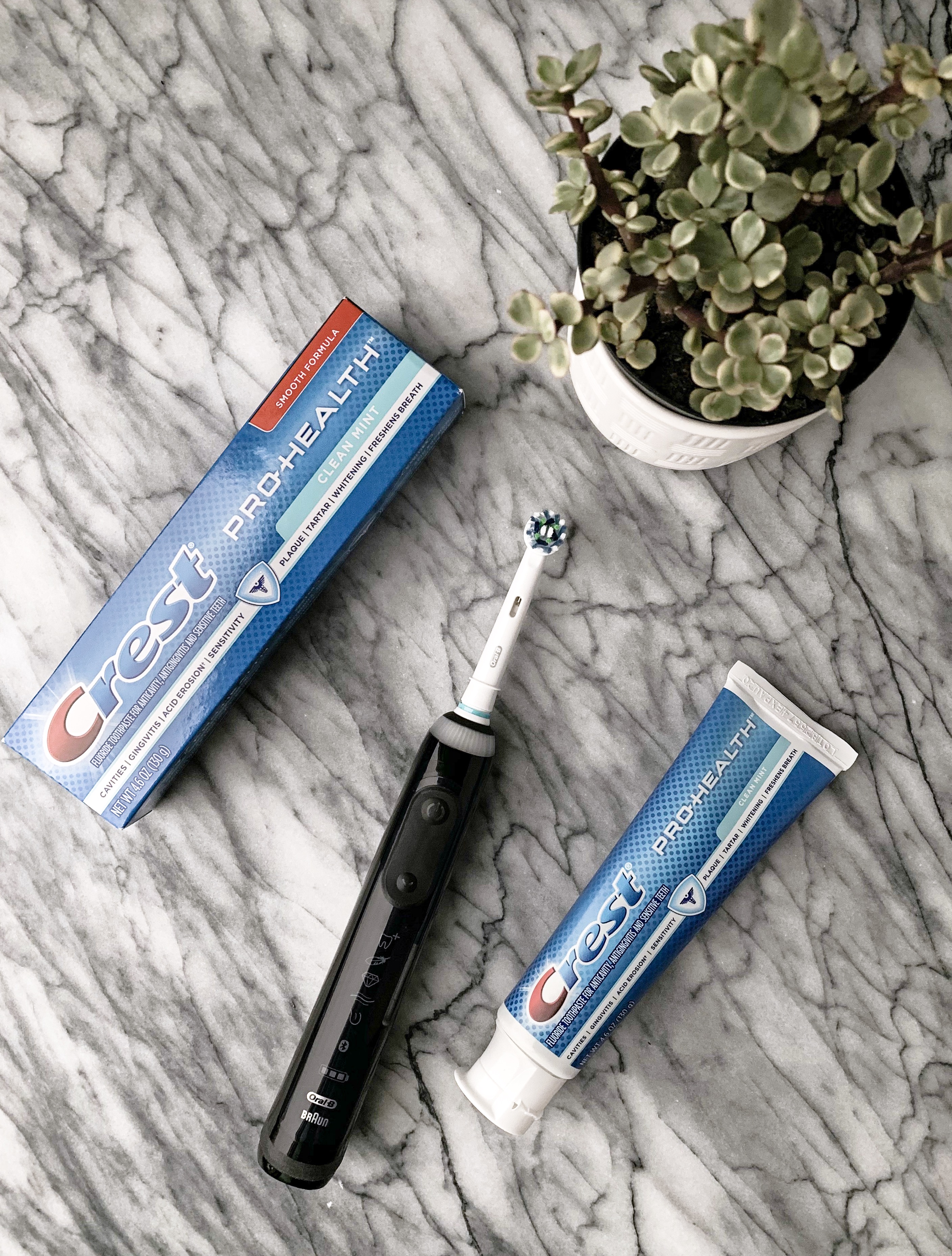 This is a sponsored conversation on behalf of Crest; all opinions and text are my own. Thanks for supporting us and the brands we love!
February brings a double whammy of sugary treats in our home, with Valentine's Day and my birthday being nearly back to back. In just the past week I've been spoiled with homemade brownies, chocolate chip cookies, whoopie pies, the most divine raspberry cheesecake, and more!
In addition to squeezing in an extra workout here and there, I'm also paying closer attention to my oral care. Don't want those extra sugar calories lingering on my thighs, and I also don't want it hanging out on my teeth and gums! I've always been a bit of a stickler for clean teeth, but I especially make it a priority when I've been indulging in these types of treats.
The good news is that Crest just released a brand new high-value coupon in Sunday's Brandsaver insert! Use it to save $2 off a variety of Crest toothpaste formulas, with several clocking in at well under a dollar after coupon at Walmart. Crest is my trusted brand of toothpaste for both myself and my family, so it's stock up time!!!
If you love that freshly brushed feeling, Crest Complete is for you. It has ground-breaking outlast technology that provides a cool, refreshing brushing experience and a fresh feeling that lasts up to 5 times longer than ordinary toothpaste. And you can pick it up for just $0.82 right now at Walmart…
Crest Complete Whitening + Scope, $2.82
$2/1 Crest Toothpaste, exp. 3/9/19 (P&G 02/24/19)
$0.82 after coupon!
If you have issues with surface stains, Crest 3D White is the product for you. Its patented enamel-safe teeth whitening ingredient polishes away stains to gently whiten teeth, removing up to 80% of surface stains. Use the new Crest coupon to pick it up at Walmart for just $0.88.
Crest 3D White Radiant Mint, $2.88
$2/1 Crest Toothpaste, exp. 3/9/19 (P&G 02/24/19)
$0.88 after coupon!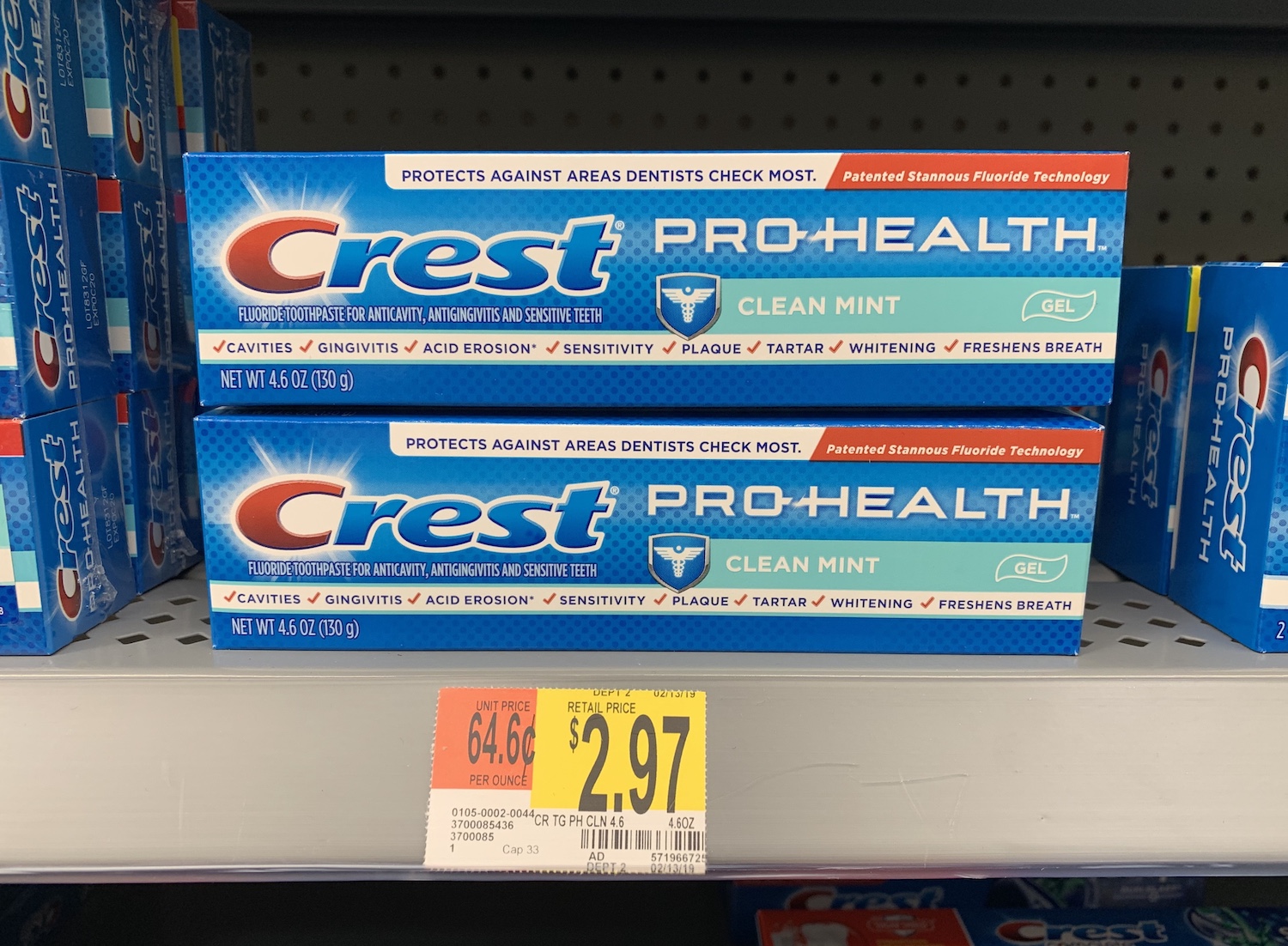 Crest Pro-Health Toothpaste
And if you're looking for a toothpaste that provides all-in-one protection, Crest Pro-Health is the way to go! It's accepted by the American Dental Association for treating and preventing plaque, gingivitis, cavities, sensitivity, tartar, whitening, and freshening breath. Snag it for just $0.97 at Walmart after coupon!
Crest Pro-Health Clean Mint, $2.97
$2/1 Crest Toothpaste, exp. 3/9/19 (P&G 02/24/19)
$0.97 after coupon!
Which formula will you choose to pick up with the new Crest coupon?!
For more information about Crest, visit www.crest.com, Like Crest on Facebook and Instagram, or follow @Crest on Twitter to receive updates and learn more about oral health.