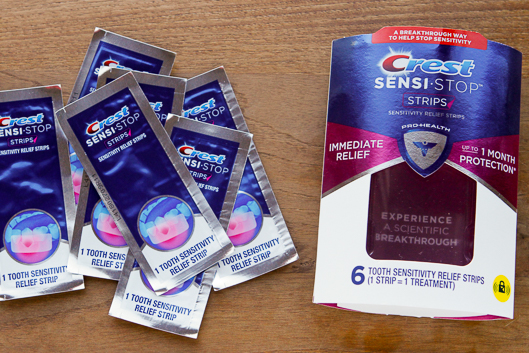 My husband has had issues with his sensitive teeth for as long I've known him. Upon our dentist's recommendation, he's tried various toothpastes and rinses over the years — all with limited success.
So when Walmart asked if I knew anyone with sensitive teeth that would be willing to give new Crest Sensi-Stop Strips a try, I asked him if he was interested. He figured it wouldn't hurt to give them a try, so I told them he'd do it.

If you're familiar with Crest Whitestrips, you'll notice that the Crest Sensi-Stop Strips look very similar. They're a small, flexible, semi-transparent strip that you apply to your teeth for a 10-minute timeframe. The claim is that the user will have targeted and immediate relief from tooth sensitivity for up to one month per application.
According to the Crest website, Crest Sensi-Stop Strips use the same ingredient that's found in professional treatments. Apparently, it's common for aging teeth to develop something called dentinal tubules, which are small passageways that lead directly to nerve endings, thus causing tooth sensitivity. These little strips seal the dentinal tubules for up to one month, giving exposed nerve endings relief.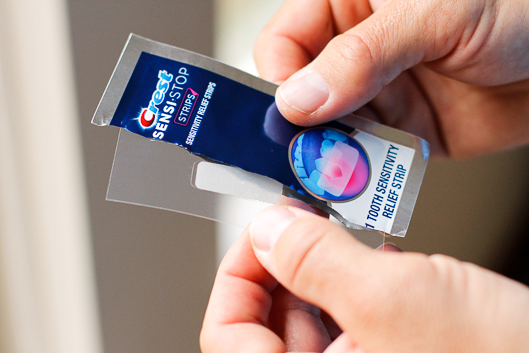 So do the Crest Sensi-Stop Strips work? According to my husband they do! He opened the package and easily applied the strip to one of his sensitive teeth. He noticed a slight numbing feeling around his gum and cheek at the sight of application, but he mentioned it went away a few minutes after her removed the strip and said that there was a definite decrease in sensitivity for that particular tooth.
He did note that the tooth felt slightly more rough after the application, like it almost has a coating on it, but that it's not at all bothersome. I'm assuming that's just the sealing product that is left behind.
If you have sensitive teeth and would like to give Crest Sensi-Stop Strips a try, you can pick up a 6-ct. package at Walmart for $17.96. You can also find $3 off coupons in recent coupon inserts or print a $2/1 Crest Sensi-Stop Strips coupon right now!