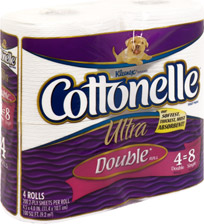 Fill out the form to receive a free sample of Cottonelle Ultra Toilet Paper and Fresh Moist Wipes.
Maybe it sounds a little silly to have a preferred brand of TP, but Cottonelle is definitely the favorite in our household. Hopefully this sample comes with a great coupon as well!
In the meantime, we'll have to make do with this $0.50/2 Cottonelle Toilet Paper printable.