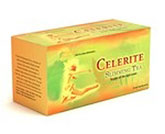 There have been several consumer recalls over the past couple of days that may affect Deal Seeking Mom readers. Please refer to the links included in each section for more details about the specific recalls:
CELERITE Slimming Tea
All lots of the dietary supplement, CELERITE Slimming Tea, are being recalled because they contain undeclared Sibutramine used as an appetite suppressant for weight loss. The FDA has not approved the product as a drug, and the safety and effectiveness of this product is unknown. The FDA advises that these products pose a threat to consumers because Sibutramine is known to substantially increase blood pressure and/or pulse rate in some patients and may present a significant risk for patients with a history of coronary artery disease, congestive heart failure, arrhythmias or stroke. The CELERITE Slimming Tea was sold and distributed nationwide via the internet at www.shapingbeauty.com.
Consumers are advised to return the product to the company's address in Southampton, PA. Consumers with questions may contact Shaping Beauty, Inc. Monday through Friday 9:00 am to 5:30 pm at 1-800-728-2850.
Other Recalls
Consumers should stop using recalled products immediately unless otherwise instructed. It is illegal to resell or attempt to resell a recalled consumer product.