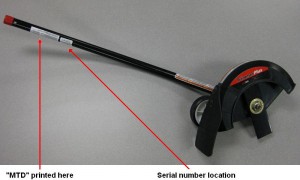 There have been several consumer recalls over the past couple of days that may affect Deal Seeking Mom readers. Please refer to the links included in each section for more details about the specific recalls:
TrimmerPlus Edger Attachments
MTD Products Inc, of Cleveland, Ohio announced a voluntary recall of TrimmerPlus Edger Attachments because the steel shaft that drives the edger blade can break during use causing the edger blade to detach. If the blade detaches, it can hit the user or bystanders, posing a laceration hazard. This recall involves MTD TrimmerPlus™ Edger Attachment Model 41AJLE-C092 LE720. The edger is sold separately as an attachment and can be attached to most major brand attachment-capable trimmers. The edger is used to cut grass along an edge such as a driveway or sidewalk. "TrimmerPlus" and "LE720" are printed on the blade's housing. Only certain serial numbers "1C##1DR####" through "1D##1DR####" are included in the recall. The serial number and "MTD" are printed on white labels on the edger's pole. The recalled edger attachments were sold at Lowe's and other hardware and home improvement stores nationwide and on the web between March 2011 and April 2011 for about $70.
Consumers should immediately stop using the recalled MTD TrimmerPlus™ Edgers and contact MTD to receive a free replacement. For additional information, contact the firm toll-free at (888) 848-6038 between 8 a.m. and 5 p.m. ET Monday through Friday, or visit the firm's website.
Animated Safari and Aquarium Lamps
Nantucket Distributing Co. Inc., of Middleboro, Mass. issued a voluntary recall of Animated Safari and Aquarium Lamps because defective wiring in the lamps can cause an electrical short, posing fire and shock hazards to consumers. recall involves Safari and Aquarium themed lamps with UPC numbers 000015556905, 000015618955, 000015821591 and 000015821607 printed on the price label on the cardboard packaging. The decorative lamps are silver and feature rotating films with aquatic and safari scenes. The affected aquarium lamps were sold at Christmas Tree Shops stores primarily in the New England, Mid-Atlantic and Midwest regions from December 2009 through May 2011 for between $7 and $8.
Consumers should immediately stop using the recalled lamps and return them to Christmas Tree Shops store for a full refund. For additional information, contact Christmas Tree Shops toll-free at (888) 287-3232 anytime, or visit their website.
Consumers should stop using recalled products immediately unless otherwise instructed. It is illegal to resell or attempt to resell a recalled consumer product.