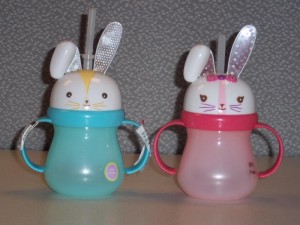 There have been several consumer recalls over the past couple of days that may affect Deal Seeking Mom readers. Please refer to the links included in each section for more details about the specific recalls:
Bunny Sippy Cups
Target Corporation; Minneapolis, Minn. announced a voluntary recall of Target Home Bunny Sippy Cups because the ear on the bunny sippy cup can poke a child in the eye area while using the cup for drinking, posing an injury hazard. The recall involves two styles of Target Home Bunny Sippy Cups. The cups come with handles on both sides in pink and blue, female and male. Each contains a corresponding white bunny head screw-on lid and one bent ear and one straight ear. The cups can be identified by imprints on the bottom: "TARGET 200020683" for pink and "TARGET 200020884" for the blue. The affected cups were sold at Target stores nationwide from February 2012 through April 5, 2012 for $3.
Consumers should immediately stop using the recalled sippy cups and return them to any Target store for a full refund. For additional information, contact Target at (800) 440-0680 between 7 a.m. and 6 p.m. CT Monday through Friday, or visit the firm's website.
Other Recall

Consumers should stop using recalled products immediately unless otherwise instructed. It is illegal to resell or attempt to resell a recalled consumer product.