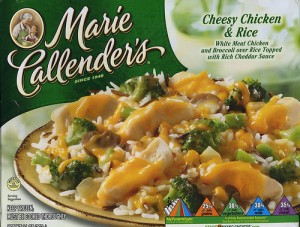 There have been several consumer recalls over the past couple of days that may affect Deal Seeking Mom readers, so be sure to check your stockpile this weekend. Please refer to the links included in each section for more details about the specific recalls:
Marie Callender Cheesy Chicken & Rice
ConAgra Foods has recalled Marie Callender's Cheesy Chicken & Rice (13-oz. packages) with establishment number P-45 inside the USDA mark of inspection because of possible salmonella contamination. For more information on the recall, please call the ConAgra hotline at 1-866-484-9610.
Kroger Deluxe Chocolate Paradise Ice Cream
Kroger has recalled select containers of their Deluxe Chocolate Paradise Ice Cream for undeclared allergens because it may contain tree nuts that are not listed on the label. The affected packages are 48-ounce containers with a "sell by" date of Jan 24, 2011. If you do not have a tree nut allergy, there is no danger posed by the product. Customers with allergies should return the product to stores for a full refund or replacement.
SpaghettiOs with Meatballs
Campbell Soup has recalled three varieties of SpaghettiOs with Meatballs because they may contain underprocessed meatballs:
SpaghettiOs with Meatballs, bearing the identifying product code "U5"
SpaghettiOs A to Z with Meatballs, bearing the identifying product code "4N"
SpaghettiOs Fun Shapes with Meatballs (Cars), bearing the identifying product code "KS"
Affected products have the establishment number "EST 4K" and a "Use By" date between June 2010 and December 2011. Products can be returned to the store you purchased them from for a full refund.
Benadryl Allergy Ultratab Tablets & Extra Strength Tylenol Rapid Release Gels
Following up on the earlier Mcneil Consumer Healthcare recalls on children's medicines earlier this year, they've now recalled two more Benadryl and Tylenol products, including:
Benadryl® Allergy Ultratab™ Tablets, 100 Count, lot numbers AJA008, ADA194, ABA022, ABA264
Extra Strength Tylenol® Rapid Release Gels, 50 Count, lot number ASA202
If you have purchased products from either lot, stop using them immediately and contact McNeil Consumer Healthcare for instructions on a refund or replacement at www.mcneilproductrecall.com or 1-888-222-6036.