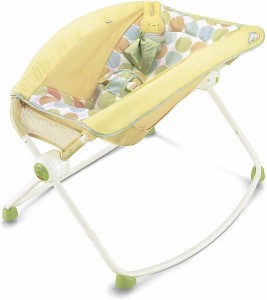 Fisher-Price Inc., of East Aurora, N.Y announced a voluntary recall of Newborn Rock 'n Play Sleepers because mold can develop between the removable seat cushion and the hard plastic frame of the sleeper when it remains wet/moist or is infrequently cleaned, posing a risk of exposure to mold to infants sleeping in the product. The recall includes all Fisher-Price Rock N' Play infant recliner seats called sleepers. The sleeper is designed for babies up to 25 pounds and is composed of a soft plastic seat held by a metal rocking frame. The product has a removable, fabric cover that is sold in 14 patterns and color palettes. The affected sleepers were sold at mass merchandise stores nationwide and online since September 2009 (units currently in retail stores are not affected by this recall) for between $50 and $85.
Consumers should immediately check for mold under the removable seat cushion. Dark brown, gray or black spots can indicate the presence of mold. If mold is found, consumers should immediately stop using the product. Consumers can contact Fisher-Price at (800) 432-5437, from 9 a.m. to 6 p.m. ET Monday through Friday, or online for cleaning instructions or further assistance.
Consumers should stop using recalled products immediately unless otherwise instructed. It is illegal to resell or attempt to resell a recalled consumer product.