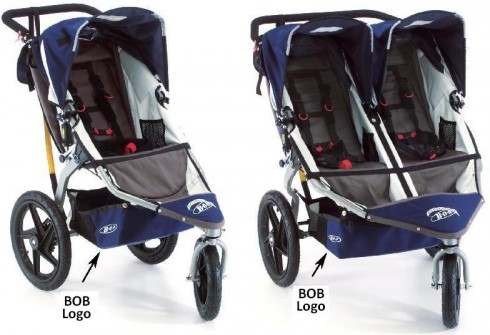 There have been several consumer recalls over the past couple of days that may affect Deal Seeking Mom readers. Please refer to the links included in each section for more details about the specific recalls:
B.O.B. Single and Double Strollers
A voluntary recall has been issued on B.O.B. Single and Double Strollers because a drawstring on the stroller can get wrapped around a child's neck, posing a strangulation hazard. This recall involves 11 models of B.O.B. single and double strollers. The name "B.O.B" appears on the cargo basket under the stroller and on the front of the stroller. All of the recalled strollers have a yellow/orange drawstring at the rear of the canopy which is used to gather loose fabric when the canopy is pulled back. Strollers have the serial number either stamped in the frame or on a white label located on the stroller's rear right leg. For a list of model and serial numbers, go here. The affected strollers were sold at REI, buybuy Baby and other stores nationwide and on the web at Babiesrus.com, Target.com and Amazon.com between April 2002 and February 2011 for between $300 and $600.
Consumers should immediately stop using the recalled strollers and remove the drawstring. If using a separately purchased Weather Shield or Sun Shield accessory with the recalled stroller, contact B.O.B. Trailers for a free canopy retrofit kit. For additional information, or to order a canopy retrofit kit, contact B.O.B. Trailers at 855-242-2245 between 8:30 a.m. and 5 p.m. MT Monday through Friday, or visit the firm's website.
Asian Gourmet Cheese Rice Crackers
Haddon House of Medford, New Jersey is recalling Asian Gourmet Cheese Rice Crackers (UPC 076606-710889), because it may contain undeclared milk and food coloring additives used to create the cheese powder listed on the label. People who have an allergy or severe sensitivity to milk run the risk of serious or life-threatening allergic reaction if they consume these products. This recall includes all lot numbers. The recalled product is packed in a semi transparent red cellophane package with a black and white logo (ASIAN Gourmet – Rice Crackers – Cheese). The UPC number of 076606-710889 can be found on the back of the package next to the Nutritional Panel.
Consumers may return the recalled crackers to the place of purchase for a full refund. Consumers can address any questions or concerns about the recall to Steve Spatzier, Haddon House Food Products, Inc., by calling 1-800-257-6174 between the hours of 8 a.m. and 5 p.m. Monday through Friday EST.
Other Recalls

Consumers should stop using recalled products immediately unless otherwise instructed. It is illegal to resell or attempt to resell a recalled consumer product.