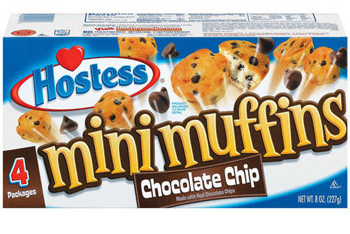 Hostess Brands, Inc. is voluntarily recalling Chocolate Chip Mini Muffins multi-packs sold in retail stores throughout the United States.  Some of these multi-packs may contain muffins with undeclared walnuts, which is an allergen.  People who have an allergy or severe sensitivity to walnuts run the risk of serious illness or life-threatening allergic reaction if they consume these products.
The product being recalled is:
Hostess Mini Muffins (Chocolate Chip variety)
4 Packs of 5 Muffins each
Net Weight 8 oz. (227 g)
UPC 45000-60703
Stamped code of "Best By: OCT 31 $7.98/lb $3.99" printed below will be "62 2569" followed by a capital letter, a time stamp and the "1029".
The error was limited to one day's production and no other Hostess products are part of this recall.  Families without nut allergies do not need to be concerned, but consumers may return them to the retailer for a refund or contact Hostess Brands' Consumer Affairs Office at 1-800-483-7253, Monday through Friday 8:30 a.m. to 4:30 p.m. CST for a replacement coupon.