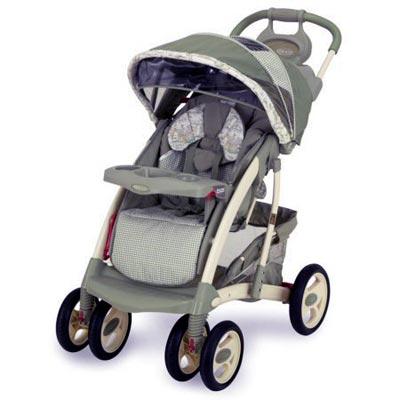 There have been several consumer recalls over the past couple of days that may affect Deal Seeking Mom readers. Please refer to the links included in each section for more details about the specific recalls:
Graco Quattro and MetroLite Strollers

The Consumer Product Safety Commission and Graco Children's Products Inc. have issued a recall of about two million Graco strollers due to risk of entrapment and strangulation.  Entrapment and strangulation can occur, especially in infants younger than 12 months of age, when a child is not harnessed.  The infant can pass through the opening between the stroller tray and seat bottom, but his or her head and neck can become entrapped.  The recall involves strollers and travel systems distributed between November 2000 and December 2007.  Go here for a complete list of recalled model numbers.  The model numbers are printed on a label at the lower portion of the rear frame.
Consumers should immediately stop using the recalled strollers and contact Graco for a free repair kit.  To order the repair kit, contact Graco toll-free at 877-828-4046 anytime or visit the firm's website.
Infant's Overalls

A recall has been issued for infant overalls distributed by Lollytogs, Inc. due to a choking hazard.  The recalled overalls have snaps that could come loose and pose a choking hazard to young children.  This recall involves Carhartt overalls with style numbers GG8500 (100% cotton canvas) and GG8501 (100% cotton knit) and were sold in brown or red in infant sizes 3, 6, 9, 12, 18 and 24 months.  The Carhartt logo is sewn on the front of the garment and the style numbers can be found on the sewn-in label hanging from the sleeve.  The recalled overalls were sold in retailers nationwide from February 2010 through July 2010 for about $25.
Consumers should immediately take the overalls away from children and return them to the place of purchase for a full refund or store credit,  For additional information contact Lollytogs at 800-636-9035 between 9 a.m. and 5 p.m. ET Monday through Friday or visit the firm's website.
Dollar Tree Children's Projector Flashlights

Wolverine, Spider-Man and Iron Man 2 Projector Flashlights have been recalled by Dollar Tree because the flashlights can cause the batteries and/or bulbs to overheat, posing fire and burn hazards.  The recalled flashlights are about 6 1/2 inches long and come with five extra mini discs that attach to the flashlight to project various images,  The back of the packaging contains the number 16879-20012-003-1003 and UPC 6 39277 16879 5.  The products were sold in Dollar Tree stores nationwide from August 2010 for about $1.
Consumers should take the recalled flashlights away from children immediately, remove and properly discard the batteries and return the flashlights to the store where purchased for a full refund.  For additional information, contact Dollar Tree Stores Inc. at 800-876-8077 between 9 a.m. and 5 p.m. ET Monday through Friday, or visits the firm's website.
Consumers should stop using recalled products immediately unless otherwise instructed. It is illegal to resell or attempt to resell a recalled consumer product.