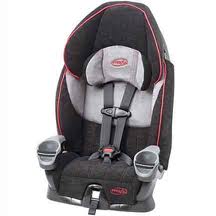 There have been several consumer recalls over the past couple of days that may affect Deal Seeking Mom readers. Please refer to the links included in each section for more details about the specific recalls:
Evenflo Maestro Combination Booster Seats
Evenflo Company, Inc. issued a safety recall on certain Maestro Combination Booster Seats due to a crack that occurred in certain laboratory tests simulating a high-impact frontal collision.  The recall involves seats with model numbers that begin with "310" that were built between November 24, 2009 and April 26, 2010 (go here for a complete list of model numbers).
Purchasers of the affected  seats should contact Evenflo for a free reinforcement kit by calling (in the U.S.) 800-233-5921 or (in Canada) 800-265-0749 between 8 a.m. and 5 p.m. ET.  Customers are urged not to return the seats to the retail stores where purchased.
JAKKS Spa Factory

The Consumer Product Safety Commission in cooperation with JAKKS Pacific is reannouncing the recall of Spa Factory Aromatherapy Fountain & Bath Benefits Kits.  Consumers should immediately take the toy's jars and caps away from children and dispose of any jar lids without vent holes.  This product was originally recalled in January 2009 and has been reannounced due to additional injuries caused when the unvented lids on the jars of the Bath Bombs/Balls or Bath Fizzies blow off.
Consumers should immediately take the toy's jars and caps without vent holes away from children and dispose of them, and contact JAKKS Pacific to receive free jar lids with vent holes.  Contact JAKKS toll-free at 877-875-2557 between 7:30 a.m. and 5 p.m. PT Monday through Friday, visit the firm's website or email the firm.
Consumers should stop using recalled products immediately unless otherwise instructed. It is illegal to resell or attempt to resell a recalled consumer product.