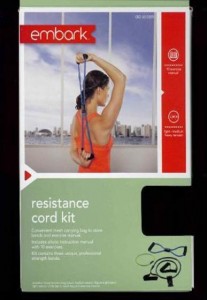 There have been several consumer recalls over the past couple of days that may affect Deal Seeking Mom readers. Please refer to the links included in each section for more details about the specific recalls:
Embark Resistance Cords
Target Corporation, of Minneapolis, Minn. announced a voluntary recall of Embark Resistance Cords and Cord Kits because a black plastic ball attached to the resistance cord's door anchor can unexpectedly release and strike the user, posing an injury hazard to consumers. This recall involves Embark brand individual resistance cords and cord kits listed here. The resistance bands are made of green, blue or black rubber with black foam handles and a door attachment. A strap of nylon webbing is looped onto the band with a plastic ball attached or encased that serves as a door anchor. "Embark" is printed on either the black strap attached to the foam handle or on the middle of the rubber cord itself. The recalled cords and cord kits were sold at Target stores nationwide and Target.com from July 2009 through August 2011 for between $10 and $20.
Consumers should immediately stop using the resistance cords and remove the door anchor strap before resuming use or contact the company to receive instructions to repair the cords to eliminate the hazard. For additional information, contact Target Guest Relations at (800) 440-0680 between 7 a.m. and 6 p.m. CT Monday through Friday, or visit the firm's website.
Other Recalls

Consumers should stop using recalled products immediately unless otherwise instructed. It is illegal to resell or attempt to resell a recalled consumer product.