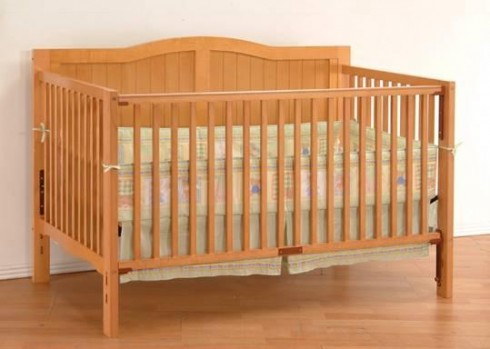 There have been several consumer recalls over the past couple of days that may affect Deal Seeking Mom readers. Please refer to the links included in each section for more details about the specific recalls:
Heritage Collection 3-in-1 Drop Side Cribs

Victory Land Group has recalled Heritage Collection 3-in-1 drop-side cribs sold exclusively at Kmart due to entrapment, suffocation and fall hazards.  The crib's drop-side rail can malfunction, detach or otherwise fall, causing part of the drop-side to detach from the crib.  When the drop-side rail partially detaches it creates a space between the drop side and the crib mattress where an infant or toddler's body can become entrapped leading to stragulation and/or suffocation.  A child can also fall out of the crib.  The recall involves model numbers 07-1248 and 07-1252 that were sold in white and natural colors.  A label with Kmart and the model number can be found on the inner side of the crib's headboard or footboard on the bottom rail.  The affected cribs were sold in Kmart stores nationwide from February 2007 through October 2008 for about $130.
Consumers should immediately stop using the cribs and contact the Victory Land Group for a free repair kit that will immobilize the drop-side rail.  For additional information, contact Victory Land Group at 866-499-2099 between 9:30 a.m. and 6 p.m. ET Monday through Friday or visit the firm's website.
Other Crib Recalls:

Hyland's Teething Tablets
A voluntarily recall has been made on Hyland's Teething Tablets.  A complete list of the recalled UPC codes can be found here.  Adverse effects have been reported, but the FDA has said that a conclusive link to the Teething Tablets has not been determined.
Consumers that are concerned about the safety of the product should contact Standard Homeopathic Company for instructions on a refund or replacement product.  For these instructions or information consumers should visit this website or call 1-877-496-5044 Monday through Friday 8 a.m. to 10:00 p.m. ET and Saturday through Sunday 9 a.m. – 5 p.m. ET.  Consumers with medical concerns or questions should contact their healthcare provider.
Nestle Raisinets Fun Size Bags

Nestle USA's Confections & Snacks Division has voluntarily recalled Nestle Raisinets Fun Size Bags (10 oz.) with a production code of 02015748/UPC number 28000010255 because they may contain undeclared peanuts.  People who have allergies or severe sensitivity to peanuts run the risk of serious or life-threatneing allergic reaction if they consume these products.  The recalled products were distributed in the U.S. to Target, Shop Rite and Don Quixote retail stores.
Consumers who have purchased the recalled products should contact Nestle Consumer Services directly at 1-800-478-5670 for a full refund and discard any remaining packages.   Operators are available between 8 a.m. and 8 p.m. EST and after hours for emergencies.  Those with questions should contact Nestle Consumer Services at the above phone number or by email.
Beef  Stick Products

Klement Sausage Company, Inc. of Milwaukee is recalling approximately 2740 pounds of beef stick products that may contain foreign materials.  Go here for code numbers and label details on the recalled products.  Consumer complaints have been received finding hard plastic and/or pieces of glass in the product.
Consumers with questions about the recall should contact company Vice President of Special Projects, Jeffrey P. Klement, at 414-744-2330.
Consumers should stop using recalled products immediately unless otherwise instructed. It is illegal to resell or attempt to resell a recalled consumer product.