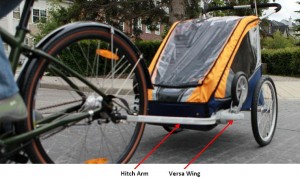 There have been several consumer recalls over the past couple of days that may affect Deal Seeking Mom readers. Please refer to the links included in each section for more details about the specific recalls:
Child Bicycle Trailers
The Thule Child Transport Systems Ltd., dba Chariot Carriers, of Calgary, Canada announced a voluntary recall of Chariot Bicycle Trailers and Bicycle Trailer Conversion Kits because the trailer's hitch mechanisms can crack and break, causing the trailer to detach from the bicycle. This poses an injury hazard to children in the bicycle trailer. For a complete description and pictures of the bicycle hitch, go here. The affected trailers were sold at Specialty bicycle stores nationwide and on various websites from December 2005 through August 2010 for between $400 and $925 for Chariot Bicycle Trailers, and from October 2002 through August 2011 for between $40 and $70 for Bicycle Trailer Conversion Kits.
Consumers should immediately stop using the recalled  Bicycle Trailers and Bicycle Trailer Conversion Kits and contact Chariot Carriers for a free repair kit which the consumer can install. For more information, contact Chariot Carriers at between 10 a.m. and 6:30 p.m. ET Monday through Friday, or visit the firm's website.
Other Recalls
Consumers should stop using recalled products immediately unless otherwise instructed. It is illegal to resell or attempt to resell a recalled consumer product.