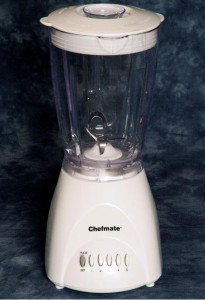 There have been several consumer recalls over the past couple of days that may affect Deal Seeking Mom readers. Please refer to the links included in each section for more details about the specific recalls:
Chefmate Blenders

Target Corporation, of Minneapolis announced a voluntary recall of Chefmate 6-Speed Blenders because while in operation, the plastic pitcher can separate from the blade assembly, leaving the blade assembly in the base and exposing the rotating blades. This poses a laceration hazard to consumers. The recall involves all Chefmate 6-Speed Blenders, model BL-10. The model number is located on the bottom of the base. The blender consists of a six-inch tall, white electrical base with five, white speed-selector buttons labeled 1 through 5, one gray button labeled "Pulse/Off" and the word "Chefmate" in black letters on the front; a clear plastic pitcher with a handle with U.S. and metric volume measurement markings; a white plastic lid with a removable clear plastic lid stopper; and a white plastic blade assembly with two angled, stainless steel blades. The affected blenders were sold exclusively at: Target stores nationwide from September 2007 to February 2011 for about $14.
Consumers should immediately stop using the blenders and return them to any Target store to receive a full refund. For additional information, contact Target Guest Relations at (800) 440-0680 between 7 a.m. and 6 p.m. CT Monday through Friday, or visit their website.
Other Recalls

Consumers should stop using recalled products immediately unless otherwise instructed. It is illegal to resell or attempt to resell a recalled consumer product.