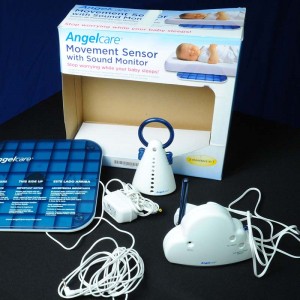 There have been several consumer recalls over the past couple of days that may affect Deal Seeking Mom readers. Please refer to the links included in each section for more details about the specific recalls:
Angelcare Movement and Sound Baby Monitors
A recall has been announced on Angelcare Movement and Sound Baby Monitors because the cord attached to the baby monitor's sensor pad is placed under the crib mattress, which poses a strangulation risk if the child pulls the cord into the crib and it becomes wrapped around the neck. The recall involves the Movement and Sound Monitor manufactured by Angelcare. This design of baby monitor includes a unique sensor pad placed inside the crib, under the mattress, to monitor movement of the baby. An electrical cord about 11 feet long is permanently connected from the sensor pad to the nursery monitor unit. The hazard is created by a cord within reach of a baby inside the crib. The cord can be pulled into the crib and can wrap around the child's neck. The recall involves all versions of Angelcare sensor monitors including model numbers: AC1100, AC201, AC300, AC401 AC601 and 49255 that did not include rigid cord covers, offered in the remedy. The model number is located on the back of the nursery monitor unit. Angelcare is providing consumers with a repair kit that includes rigid protective cord covers through which the sensor pad cords can be threaded, a new, permanent electric cord warning label about the strangulation risk, and revised instructions. The recalled baby monitors were sold at Babies R Us/Toys R Us, Burlington Coat Factory, Meijer, Sears, Walmart, Amazon.com, Target.com, Overstock.com, and nearly 70 small baby specialty stores, from October 1999 through September 2013 for about $100 to $300.
Consumers should immediately make sure cords are placed out of reach of the child and contact Angelcare toll-free at (855) 355-2643 between 8 a.m. and 8 p.m. ET Monday through Friday, or visit the firm's website to order the free repair kit.
Cuisinart 7-cup Food Processors
A recall has been announced for nine models of Cuisinart Food Processors including, MFP-107, MFP-107BC, MFP-107BCWS, MFP-107BK, MFP-107BKWS, MFP-107DCWS, MFP-107MGSLT, MFP-107MR or MFP-107WS because Cuisinart has received one report of an incident involving a consumer being struck on the cheek by a piece of the food processor's plastic cover that cracked off while the reversible slicing disc was being used. The model number is on the underside of the food processor base. The food processors were sold in white, black, brush chrome, metallic gray, metallic red and silver colors. They have a seven cup plastic work bowl and three push buttons "On," "Pulse" and "Off." Cuisinart is stamped on the front. The food processors were sold at Belk, Best Buy, Dillards, J.C. Penney, Macy's, Sears, Williams-Sonoma and other stores nationwide, and online at Amazon.com and Zappos.com from October 2012 through June 2013 for about $100. Consumers should immediately stop using the recalled food processors and contact Cuisinart to receive a free replacement lid and reversible slicing/shredding disc.
Contact Cuisinart toll-free at (877) 339-2534 from 7 a.m. to 11 p.m. ET Monday through Friday, and from 9 a.m. to 5:30 p.m. ET Saturday or Sunday, or online (click on Recall for more information).